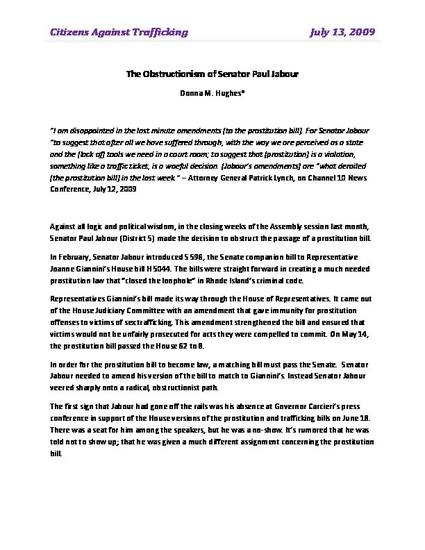 Other
The Obstructionism of Senator Paul Jabour
(2009)
Abstract
"I am disappointed in the last minute amendments [to the prostitution bill]. For Senator Jabour "to suggest that after all we have suffered through, with the way we are perceived as a state and the [lack of] tools we need in a court room; to suggest that [prostitution] is a violation, something like a traffic ticket, is a woeful decision. [Jabour's amendments] are "what derailed [the prostitution bill] in the last week." – Attorney General Patrick Lynch, on Channel 10 News Conference, July 12, 2009
Against all logic and political wisdom, in the closing weeks of the Assembly session last month, Senator Paul Jabour (District 5) made the decision to obstruct the passage of a prostitution bill. 
Keywords
decriminalized prostitution,
Senate,
Rhode Island,
legislation,
law,
bill,
obstruction
Publication Date
July 13, 2009
Citation Information
Hughes, Donna M. (2009, July 13). The obstructionism of Senator Paul Jabour. Rhode Island: Citizens Against Trafficking.
Creative Commons license
This work is licensed under a Creative Commons CC_BY-NC-ND International License.