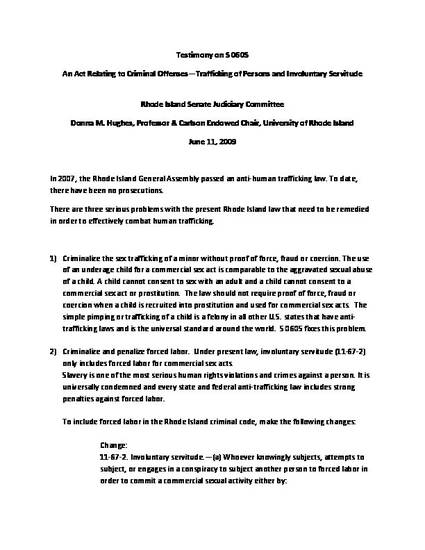 Other
Testimony on Human Trafficking Bill, Rhode Island Senate Judiciary Committee
(2009)
Abstract
 In 2007, the Rhode Island General Assembly passed an anti-human trafficking law. To date, there have been no prosecutions. There are three serious problems with the present Rhode Island law that need to be remedied in order to effectively combat human trafficking. 
Keywords
decriminalized prostitution,
human trafficking,
forced labor,
sex trafficking,
legislation,
law,
bill,
Rhode Island
Publication Date
June 11, 2009
Citation Information
Hughes, Donna M. (2009, June 11). Testimony on An Act Relating to Criminal Offenses--Trafficking of Persons and Involuntary Servitude. Rhode Island: Citizens Against Trafficking.
Creative Commons license
This work is licensed under a Creative Commons CC_BY-NC-ND International License.