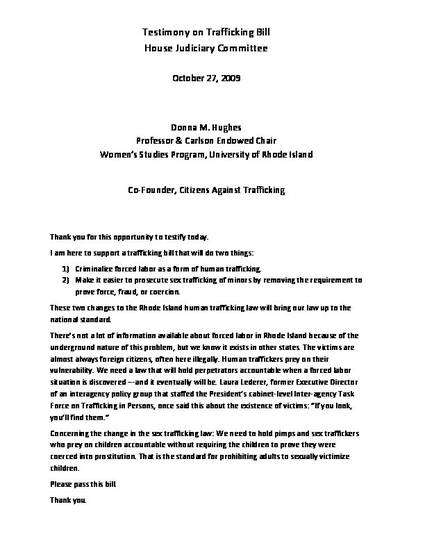 Other
Testimony for Trafficking Bill, Rhode Island House Judiciary Committee, Oct 2009
(2009)
Abstract
I am here to support a trafficking bill that will do two things: 
1) Criminalize forced labor as a form of human trafficking. 
2) Make it easier to prosecute sex trafficking of minors by removing the requirement to prove force, fraud, or coercion. 
Keywords
forced labor,
human trafficking,
law,
bill,
Rhode Island,
sex trafficking
Publication Date
October 27, 2009
Citation Information
Hughes, Donna M. (2009, October 27). Testimony on trafficking bill, Rhode Island House Judiciary Committee. Rhode Island: Citizens Against Trafficking.
Creative Commons license
This work is licensed under a Creative Commons CC_BY-NC-ND International License.