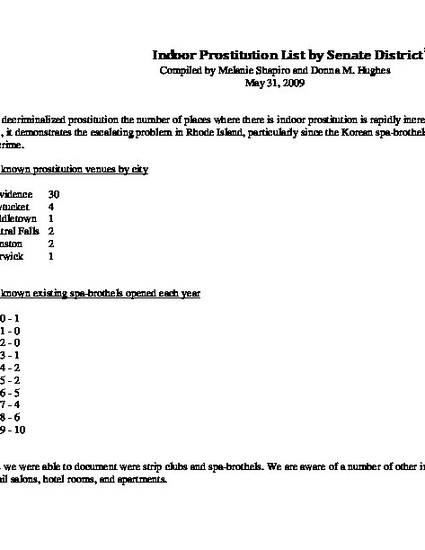 Other
Indoor Brothel List by Senate District in Rhode Island, May 2009
(2009)
Abstract
Because of decriminalized prostitution, the number of places where there is indoor prostitution is rapidly increasing. The following is a partial list that demonstrates the escalating problem in Rhode Island, particularly since the Korean spa-brothels are known to be connected to Asian organized crime.
Publication Date
May, 2009
Citation Information
Shapiro, Melanie & Hughes, Donna M. (2009, May 31). Indoor prostitution list by Senate district in Rhode Island. Rhode Island: Citizens Against Trafficking.
Creative Commons license
This work is licensed under a Creative Commons CC_BY-NC-ND International License.