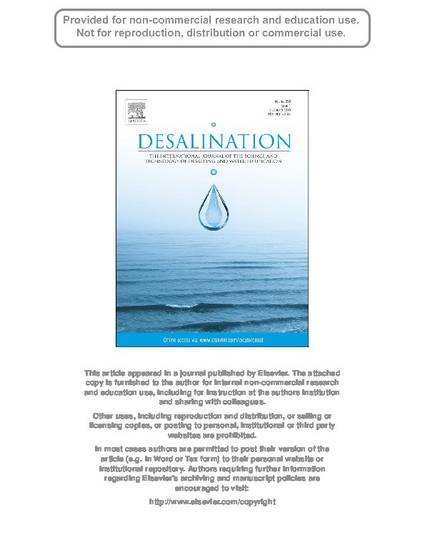 Article
Inorganic Fouling of Pressure-Driven Membrane Processes - A Critical Review
Desalination
Publication Date
1-1-2010
DOI
10.1016/j.desal.2009.02.056
Place of Publication
Netherlands
Abstract
One of the major limitations of the application of membrane processes in water and wastewater treatment is inorganic fouling. Despite the extensive studies on concentration polarization and inorganic scaling in membrane filtration, the fundamental mechanisms and processes involved in inorganic fouling are not fully understood. This paper critically reviews the mechanisms and models of concentration polarization and inorganic fouling in pressure-driven membrane processes. Effects of operating parameters and membrane properties on the formation of inorganic scale at the membrane surface are also evaluated. Future research areas that need to be pursued to alleviate inorganic fouling problems in membrane installations are discussed.
Keywords
Membrane filtration; Concentration polarization; Inorganic fouling; Filtration model; Scaling
Citation Information
Saqib Shirazi, Che-Jen Lin and Dong Chen. "Inorganic Fouling of Pressure-Driven Membrane Processes - A Critical Review"
Desalination
Vol. 250 Iss. 1 (2010)
Available at: http://works.bepress.com/dong_chen/1/