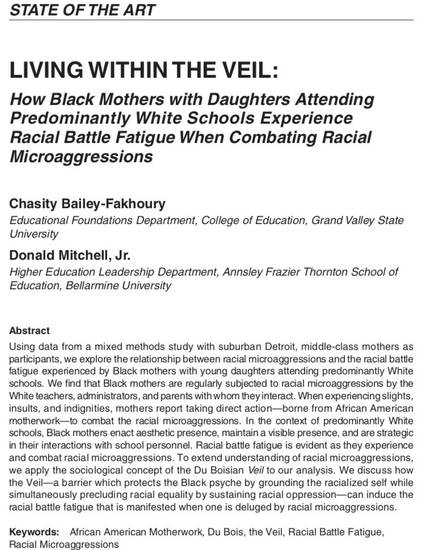 Article
Living Within The Veil: How Black Mothers with Daughters Attending Predominantly White Schools Experience Racial Battle Fatigue When Combating Racial Microaggressions
Du Bois Review: Social Science Research on Race (2018)
Abstract
Using data from a mixed methods study with suburban Detroit, middle-class mothers as participants, we explore the relationship between racial microaggressions and the racial battle fatigue experienced by Black mothers with young daughters attending predominantly White schools. We find that Black mothers are regularly subjected to racial microaggressions by the White teachers, administrators, and parents with whom they interact. When experiencing slights, insults, and indignities, mothers report taking direct action—borne from African American motherwork—to combat the racial microaggressions. In the context of predominantly White schools, Black mothers enact aesthetic presence, maintain a visible presence, and are strategic in their interactions with school personnel. Racial battle fatigue is evident as they experience and combat racial microaggressions. To extend understanding of racial microaggressions, we apply the sociological concept of the Du Boisian Veil to our analysis. We discuss how the Veil—a barrier which protects the Black psyche by grounding the racialized self while simultaneously precluding racial equality by sustaining racial oppression—can induce the racial battle fatigue that is manifested when one is deluged by racial microaggressions.
DOI
https://doi.org/10.1017/S1742058X1800022X
Citation Information
Bailey-Fakhoury, C., & Mitchell, D., Jr. (2018). Living behind the veil: How Black mothers with daughters attending predominantly White schools experience racial battle fatigue when combating racial microaggressions.
Du Bois Review: Social Science Research on Race.
Advance online publication. doi: https://doi.org/10.1017/S1742058X1800022X