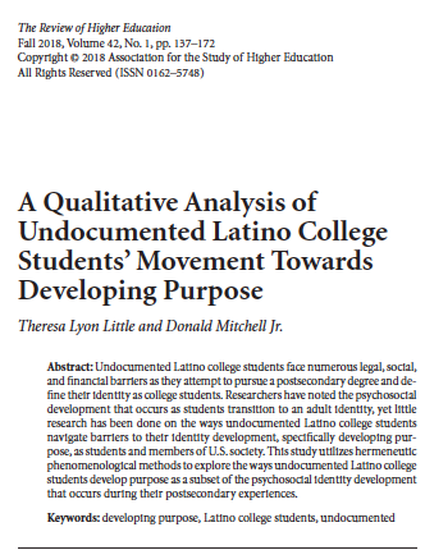 Article
A Qualitative Analysis of Undocumented Latino College Students' Movement Towards Developing Purpose
The Review of Higher Education (2018)
Abstract
Undocumented Latino college students face numerous legal, social, and financial barriers as they attempt to pursue a postsecondary degree and define their identity as college students. Researchers have noted the psychosocial development that occurs as students transition to an adult identity, yet little research has been done on the ways undocumented Latino college students navigate barriers to their identity development, specifically developing purpose, as students and members of U.S. society. This study utilizes hermeneutic phenomenological methods to explore the ways undocumented Latino college students develop purpose as a subset of the psychosocial identity development that occurs during their postsecondary experiences.
Keywords
Developing purpose,
Latino college students,
undocumented
DOI
http://muse.jhu.edu/article/704815
Citation Information
Little, T. L., & Mitchell, D., Jr. (2018). A qualitative analysis of undocumented Latino college students' movement towards developing purpose.
The Review of Higher Education
,
42
(1), 137-172.