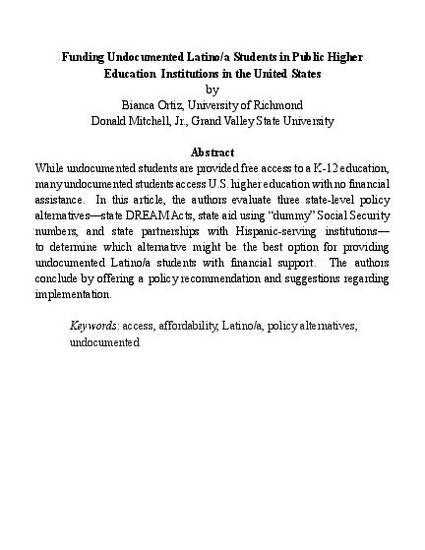 Article
Funding Undocumented Latino/a Students in Public Higher Education Institutions in the United States
NASAP Journal (2015)
Abstract
While undocumented students are provided free access to a K-12 education, many undocumented students access U.S. higher education with no financial assistance. In this article, the authors evaluate three state-level policy alternatives—state DREAM Acts, state aid using "dummy" Social Security numbers, and state partnerships with Hispanic-serving institutions—to determine which alternative might be the best option for providing undocumented Latino/a students with financial support. The authors conclude by offering a policy recommendation and suggestions regarding implementation.
Keywords
access,
affordability,
Latino/a,
policy alternatives,
undocumented
Citation Information
Ortiz, B., & Mitchell, D., Jr. (2015). Funding undocumented Latino/a students in public higher education institutions in the United States.
National Association of Student Affairs Professionals Journal
,
15
(1), 76-93.