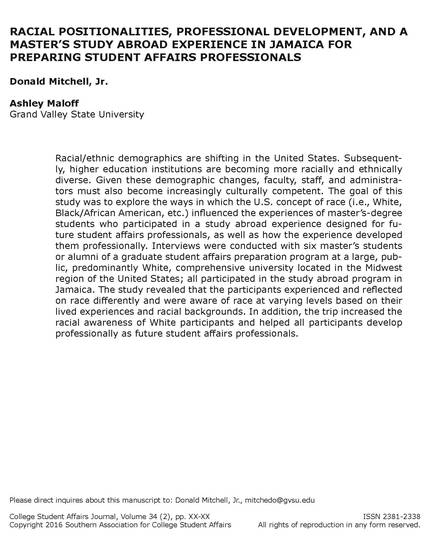 Article
Racial Positionalities, Professional Development, and a Master's Study Abroad Experience in Jamaica for Preparing Student Affairs Professionals
College Student Affairs Journal (2016)
Abstract
Racial/ethnic demographics are shifting in the United States. Subsequently, higher education institutions are becoming more racially and ethnically diverse. Given these demographic changes, faculty, staff, and administrators must also become increasingly culturally competent. The goal of this study was to explore the ways in which the U.S. concept of race (i.e., White, Black/African American, etc.) influenced the experiences of master's-degree students who participated in a study abroad experience designed for future student affairs professionals, as well as how the experience developed them professionally. Interviews were conducted with six master's students or alumni of a graduate student affairs preparation program at a large, public, predominantly White, comprehensive university located in the Midwest region of the United States; all participated in the study abroad program in Jamaica. The study revealed that the participants experienced and reflected on race differently and were aware of race at varying levels based on their lived experiences and racial backgrounds. In addition, the trip increased the racial awareness of White participants and helped all participants develop professionally as future student affairs professionals.
Citation Information
Mitchell, D., Jr., & Maloff, A. (2016). Racial positionalities, professional development, and a master's study abroad experience in Jamaica for future student affairs professionals.
College Student Affairs Journal
,
34
(2), 3-15.