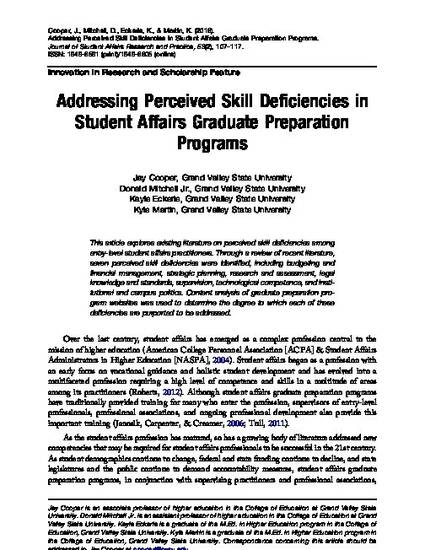 Article
Addressing Perceived Skill Deficiencies in Student Affairs Graduate Preparation Programs
Journal of Student Affairs Research and Practice (2016)
Abstract
This article explores existing literature on perceived skill deficiencies among entry-level student affairs practitioners. Through a review of recent literature, seven perceived skill deficiencies were identified, including budgeting and financial management, strategic planning, research and assessment, legal knowledge and standards, supervision, technological competence, and institutional and campus politics. Content analysis of graduate preparation program websites was used to determine the degree to which each of these deficiencies are purported to be addressed.
Citation Information
Cooper, J., Mitchell, D., Jr., Eckerle, K., & Martin, K. (2016). Addressing perceived skill deficiencies in student affairs graduate preparation programs.
Journal of Student Affairs Research and Practice
,
53
(2), 107-117.