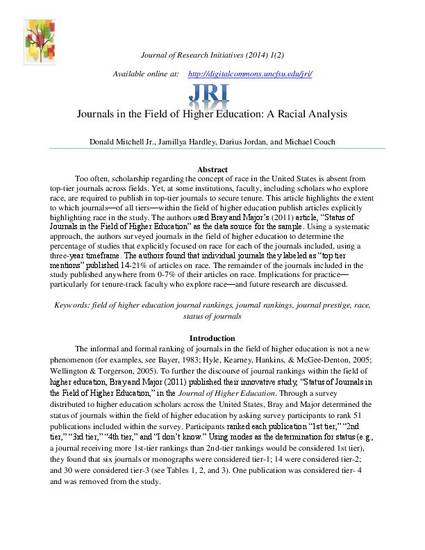 Article
Journals in the Field of Higher Education: A Racial Analysis
Journal of Research Initiatives (2014)
Abstract
Too often, scholarship regarding the concept of race in the United States is absent from top-tier journals across fields. Yet, at some institutions, faculty, including scholars who explore race, are required to publish in top-tier journals to secure tenure. This article highlights the extent to which journals—of all tiers—within the field of higher education publish articles explicitly highlighting race in the study. The authors used Bray and Major's (2011) article, "Status of Journals in the Field of Higher Education" as the data source for the sample. Using a systematic approach, the authors surveyed journals in the field of higher education to determine the percentage of studies that explicitly focused on race for each of the journals included, using a three-year timeframe. The authors found that individual journals they labeled as "top tier mentions" published 14-21% of articles on race. The remainder of the journals included in the study published anywhere from 0-7% of their articles on race. Implications for practice—particularly for tenure-track faculty who explore race—and future research are discussed.
Keywords
Field of higher education journal rankings,
journal rankings,
journal prestige,
race,
status of journals
Citation Information
Mitchell, D., Jr., Hardley, J., Jordan, D., & Couch, M. (2014). Journals in the field of higher education: A racial analysis.
Journal of Research Initiatives
,
1
(2), 1-10.