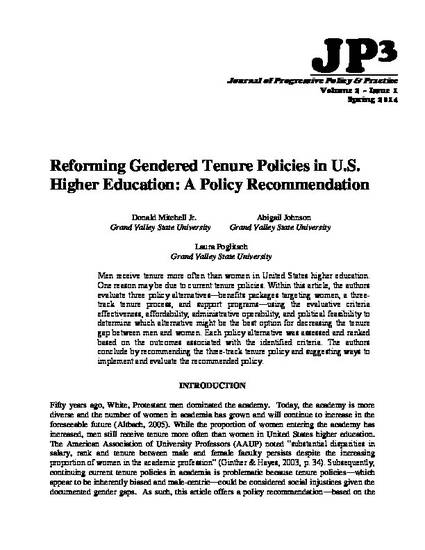 Article
Reforming Gendered Tenure Policies in U.S. Higher Education: A Policy Recommendation
Journal of Progressive Policy and Practice (2014)
Abstract
Men receive tenure more often than women in United States higher education. One reason may be due to current tenure policies. Within this article, the authors evaluate three policy alternatives—benefits packages targeting women, a three-track tenure process, and support programs—using the evaluative criteria effectiveness, affordability, administrative operability, and political feasibility to determine which alternative might be the best option for decreasing the tenure gap between men and women. Each policy alternative was assessed and ranked based on the outcomes associated with the identified criteria. The authors conclude by recommending the three-track tenure policy and suggesting ways to implement and evaluate the recommended policy.
Keywords
Gender,
higher education,
policies,
tenure,
women
Citation Information
Mitchell, D., Jr., Johnson, A., & Poglitsch, L. (2014). Reforming gendered tenure policies in U.S. higher education: A policy recommendation.
Journal of Progressive Policy and Practice, 2
(1), 101-110.