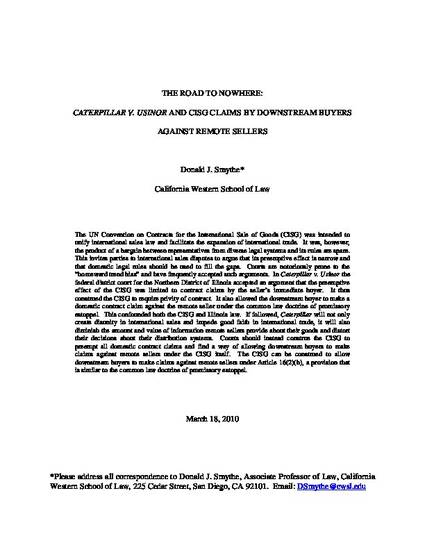 Unpublished Paper
The Road to Nowhere: Caterpillar v. Usinor and CISG Claims by Downstream Buyers Against Remote Sellers
ExpressO (2010)
Abstract
The UN Convention on Contracts for the International Sale of Goods (CISG) was intended to unify international sales law and facilitate the expansion of international trade. It was, however, the product of a bargain between representatives from diverse legal systems and its rules are spare. This invites parties to international sales disputes to argue that its preemptive effect is narrow and that domestic legal rules should be used to fill the gaps. Courts are notoriously prone to the "homeward trend bias" and have frequently accepted such arguments. In Caterpillar v. Usinor the federal district court for the Northern District of Illinois accepted an argument that the preemptive effect of the CISG was limited to contract claims by the seller's immediate buyer. It thus construed the CISG to require privity of contract. It also allowed the downstream buyer to make a domestic contract claim against the remote seller under the common law doctrine of promissory estoppel. This confounded both the CISG and Illinois law. If followed, Caterpillar will not only create disunity in international sales and impede good faith in international trade, it will also diminish the amount and value of information remote sellers provide about their goods and distort their decisions about their distribution systems. Courts should instead construe the CISG to preempt all domestic contract claims and find a way of allowing downstream buyers to make claims against remote sellers under the CISG itself. The CISG can be construed to allow downstream buyers to make claims against remote sellers under Article 16(2)(b), a provision that is similar to the common law doctrine of promissory estoppel.
Keywords
CISG,
international sales,
contracts,
privity,
promissory estoppel
Publication Date
March 20, 2010
Citation Information
Donald J. Smythe. "The Road to Nowhere: Caterpillar v. Usinor and CISG Claims by Downstream Buyers Against Remote Sellers"
ExpressO
(2010)
Available at: http://works.bepress.com/donald_smythe/1/