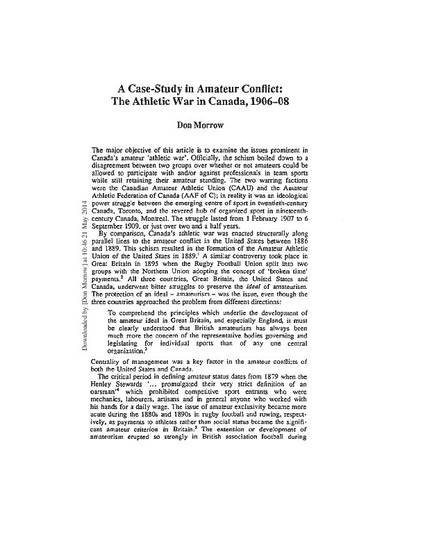 Article
A Case Study in Amateur Conflict: The Athletic War in Canada, 1906-1908
The International Journal of History of Sport (1986)
Abstract
The major objective of this article was to examine the issues prominent in Canada's amateur 'athletic war.' Officially, the schism boiled down to a disagreement between two groups over whether or not amateurs could be allowed to participate with and/or against professionals in team sports while still retaining their amateur standing. The two warring factions were the Canadian Amateur Athletic Union (CAAU) and the Amateur Athletic Federation of Canada (AAF of C); in reality, it was an ideological power struggle between the emerging centre of sport in twentieth century Canada, Toronto, and the revered hub of organized sport in nineteenth century Canada, Montreal. The struggle lasted from 1 February 1907 to 6 September 1909, or just over two and a half years.
Keywords
amateur,
sport,
athletic,
Canada,
history
Citation Information
Don Morrow. "A Case Study in Amateur Conflict: The Athletic War in Canada, 1906-1908"
The International Journal of History of Sport
Vol. 3 Iss. 2 (1986)
Available at: http://works.bepress.com/donald_morrow/96/