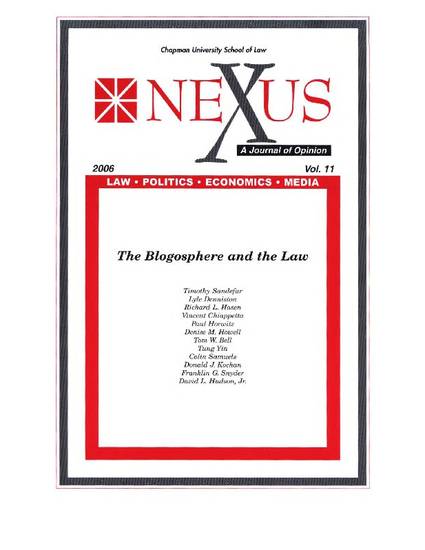 Article
The Blogosphere and the New Pamphleteers
Nexus (2006)
Abstract
The future of the free dissemination of information lies in the blog, some may say. The internet has entirely transformed how we receive and consume information. It's the newest incarnation of information dissemination. From the insights of Alexis de Tocqueville, "Feelings and opinions are recruited, the heart is enlarged, and the human mind is developed only by the reciprocal influence of men upon one another." Bloggers are a powerful force in the distribution of information and ideas and the creation of communities of conversation. Throughout history, the dissemination of information, news, opinions, and ideas has continuously transformed. In the 18th Century, there was the town crier, the pamphleteer, hand-billing, leafleting and the emergence of the newspaper. Later, radio and then television emerged in the 20th Century. There has been a constant advancement in the dissemination of information, and the internet is the latest medium. The blog is essentially today's version of the pamphleteer. Spontaneous order is at play in this modern marketplace of ideas. The blogosphere is truly a transformation and a popular revolution in the provision of information. This Article presents an historical perspective on information flow and the marketplace for ideas, and argues that the blogosphere is merely a technological transformation and stimulus of traditional pamphleteering – an individual's opportunity to introduce his ideas to the community.
Keywords
blogs,
blogging,
blogosphere,
internet,
pamphleteers,
publication,
communication,
newspapers
Citation Information
Donald J. Kochan. "The Blogosphere and the New Pamphleteers"
Nexus
Vol. 11 (2006)
Available at: http://works.bepress.com/donald_kochan/9/