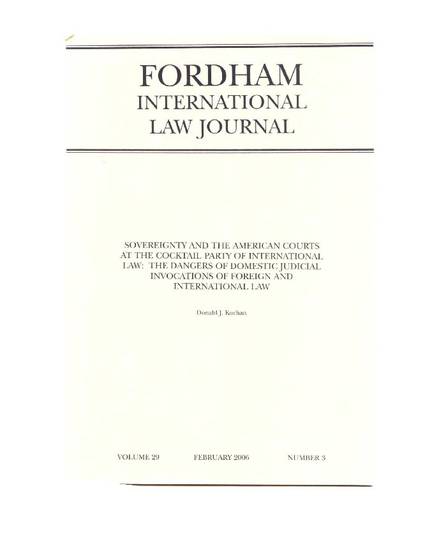 Article
Sovereignty and the American Courts at the Cocktail Party of International Law: The Dangers of Domestic Invocations of Foreign and International Law
Fordham International Law Journal (2006)
Abstract
With increasing frequency and heightened debate, United States courts have been citing foreign and "international" law as authority for domestic decisions. This trend is inappropriate, undemocratic, and dangerous. The trend touches on fundamental concepts of sovereignty, democracy, the judicial role, and overall issues of effective governance. There are multiple problems with the judiciary's reliance on extraterritorial and extra-constitutional foreign or international sources to guide their decisions. Perhaps the most fundamental flaw is its interference with rule of law values. To borrow from Judge Harold Levanthal, the use of international sources in judicial decision-making might be described as "the equivalent of entering a crowded cocktail party and looking over the heads of the guests for one's friends." Activism is emboldened and the rule of law is diminished. Sovereignty dictates that a nation governs itself and creates its own laws. When authorities begin to allow the piercing of the veil of sovereignty – allowing outside sources to pierce the boundaries of domestic law – there is a surrender of the legislative autonomy a nation holds. But if the legislature is the ultimate lawmaking power, it is inappropriate for the judiciary to look beyond domestic pronouncements of law and invoke foreign or international pronouncements of "law" to decide governance standards. Predilections of particular judges should not punctuate domestic pronouncements or allow the projection of international standards into controlling law when not promulgated through the political process. There is an emerging and growing debate regarding the judicial invocation and citation of international "law" or foreign law. Courts interpreting United States law should be interpreting United States law. The invocation of foreign or international sources in judicial opinions circumvents the solemn duty of the judiciary to decide what the law is, not what it should be.
Keywords
sovereignty,
international law,
cil,
foreign law,
federal courts,
alien tort,
legislation,
constitutional law,
economic development,
treaties
Citation Information
Donald J. Kochan. "Sovereignty and the American Courts at the Cocktail Party of International Law: The Dangers of Domestic Invocations of Foreign and International Law"
Fordham International Law Journal
Vol. 29 Iss. 3 (2006)
Available at: http://works.bepress.com/donald_kochan/5/