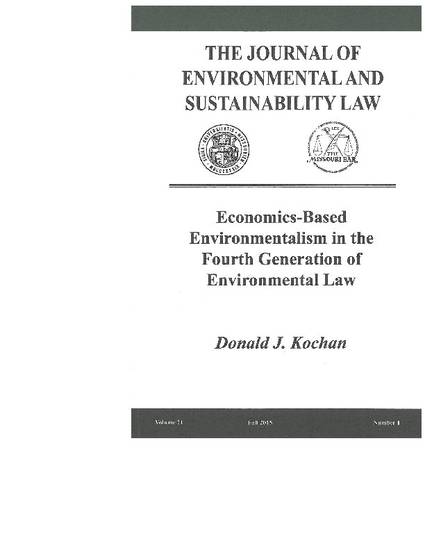 Article
Economics-Based Environmentalism in the Fourth Generation of Environmental Law
(University of Missouri) Journal of Environmental & Sustainability Law (2015)
Abstract
Environmental protection and economic concerns are not mutually exclusive. This article explores some of the issues of economic analysis that might arise as we approach the fourth generation of environmental law. It explains ways that economic analysis can be employed to generate the best environmental rules, including measures under what this article terms as "economics-based environmentalism." Economics-based environmentalism contends that the advantages of using economic principles within a "polycentric toolbox" of environmental law come from the benefits available in private ordering, markets, property rights, liability regimes and incentives structures that will better protect the environment than alternatives like state-based interventionist, prescriptive rules that lack the adaptability and tailored effect of economics-based rules. Economics-based environmentalism explains that environmental protection can be accomplished if the government sets rules that allow private markets to price resources, establishes enforceable rights in those resources, and allows individuals to freely trade such rights. To the extent that the state is unwilling to surrender substantial control to private actors and the market, economics-based environmentalism calls for the injection of these economic standards into the development of state-based regulatory law, hoping that those state laws will try to harness the economic ideas. One proposal in the article calls for embedding in law a more stringent requirement that agencies prove the existence of market failure and the exhaustion of economic alternatives to governmental regulation before being allowed to proceed with any top-down, interventionist governmental regulation. The last portion of the article focuses on theories from law and economics, including those related to the self-perpetuating behavior of bureaucracies, public choice models of legislation and regulation, and capture theory as barriers to any effective reform in the emerging fourth generation of environmental law – whether it be those reforms proposed by others or even those suggested earlier in the article.
Keywords
environmental law,
natural resources law,
land use,
environmentalism,
free market environmentalism,
common law environmentalism,
ecology,
economics-based environmentalism,
law and economics,
public choice,
bureaucracy,
property rights,
resiliency,
adaptive management
Citation Information
Donald J. Kochan,
Economics-Based Environmentalism in the Fourth Generation of Environmental Law
, 21
J. Envtl. & Sustainability L.
47 (2015).