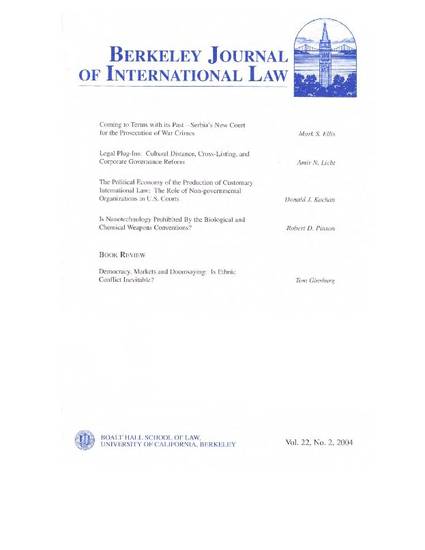 Article
The Political Economy of the Production of Customary International Law: The Role of Non-Governmental Organizations
Berkeley Journal of International Law (2004)
Abstract
Increasingly, United States courts are recognizing various treaties, as well as declarations, proclamations, conventions, resolutions, programmes, protocols, and similar forms of inter- or multi-national "legislation" as evidence of a body of "customary international law" enforceable in domestic courts, particularly in the area of tort liability. These "legislative" documents, which this Article refers to as customary international law outputs, are seen by some courts as evidence of jus cogens norms that bind not only nations and state actors, but also private individuals. The most obvious evidence of this trend is in the proliferation of lawsuits against corporations with ties to the United States for alleged violations of customary international law during development projects abroad. Such lawsuits are most often brought under the federal Alien Tort Statute ("ATS"), 28 U.S.C. § 1350. This article applies public choice theory to focus on the dangers of enforceability of these customary international law outputs from four interrelated factors: (1) the lack of bicameralism and presentment associated with the development of the documents associated with this judicially recognized body of customary international law – a process that increases the cost for the production of legislation and thereby checks rent-seeking; (2) the lack of formal elements of law associated with such documents – whereas more formal, specific, and knowingly enforceable legislation is more difficult and expensive for an interest group to produce; and, thus, formality requirements to enforceability decrease production of laws while looser standards are cheaper and more easily produced; (3) unequal expectations of the parties in the bargaining process for the production of such documents – meaning that the parties have not and are not now always cognizant of both the benefits and costs of customary international law document production because enforceability was either unexpected or unknown; and (4) the resulting incentives for nongovernmental organization ("NGO") rent-seeking from international bodies and development of such documents due to an increased value to such documents directly proportional to increased judicial enforceability. It is predicted that, due to these factors, increased judicial enforceability will increase NGO demand for the production of customary international law outputs; that the suppliers will oblige; and that opposing interest groups will face significant hurdles in establishing an equilibrium that could bring increased production into check.
Keywords
customary international law,
CIL,
non-governmental organziations,
NGO,
alien tort,
international law,
treaties,
political economy,
public choice,
interest groups,
law and economics,
rent-seeking,
federal courts
Citation Information
Donald J. Kochan. "The Political Economy of the Production of Customary International Law: The Role of Non-Governmental Organizations"
Berkeley Journal of International Law
Vol. 22 Iss. 2 (2004)
Available at: http://works.bepress.com/donald_kochan/4/