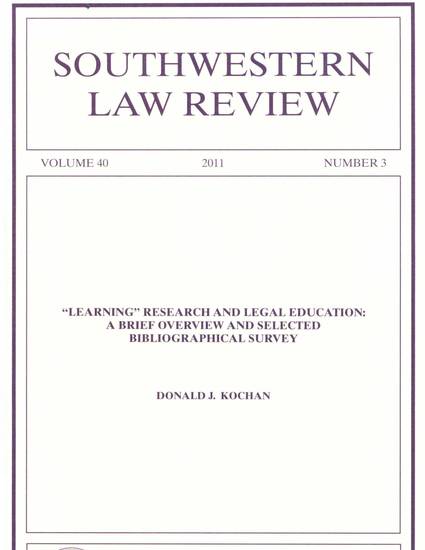 Article
"Learning" Research and Legal Education: A Brief Overview and Selected Bibliographical Survey
Southwestern University Law Review (2011)
Abstract
At its core, education is about learning. Every educator, legal or otherwise, must at the same time be both a teacher and a student in the learning enterprise. Luckily, there is a wide literature to help us in these roles and it is growing every day. It should be a goal of every legal educator to appreciate this area of scholarship, understand its breadth and importance, and engage with it in our teaching and writing. This research overview aims to aid the legal educator seeking to learn about learning and access tools for self-improvement. It also provides some preliminary assistance to those researchers beginning to traverse the field on the subject of "learning" and legal education, and it equally serves as a warning of the daunting task that awaits the researcher on that multifaceted subject. This overview and selected bibliography compiles selected sources collected through various searches on legal databases, library collections, and other available sources. The text serves as a guide along the way with some explanatory material to describe the fields. The compilation of these sources will serve independently as a valuable survey, bibliographic collection, and research tool for others (including educators, academic scholars, librarians, students, and lawyers).
Keywords
Legal Bibliography,
Learning Sciences,
Learning and Teaching,
Legal Education,
How People Learn,
Legal Research and Writing
Publication Date
April, 2011
Citation Information
Donald J. Kochan. ""Learning" Research and Legal Education: A Brief Overview and Selected Bibliographical Survey"
Southwestern University Law Review
Vol. 40 (2011)
Available at: http://works.bepress.com/donald_kochan/24/