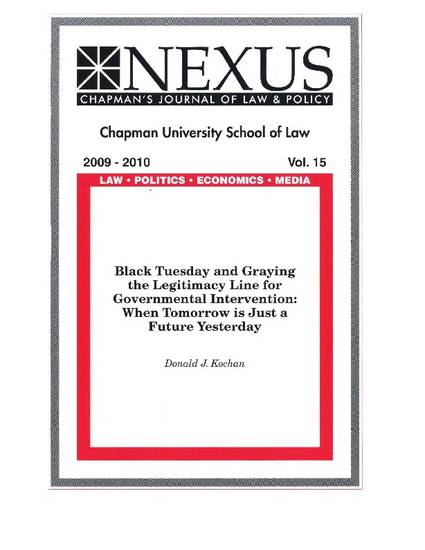 Article
Black Tuesday and Graying the Legitimacy Line for Governmental Intervention: When Tomorrow is Just a Future Yesterday
Nexus (2010)
Abstract
Black Tuesday in October 1929 marked a major crisis in American history. As we face current economic woes, it is appropriate to recall not only the event but also reflect on how it altered the legal landscape and the change it precipitated in the acceptance of governmental intervention into the marketplace. Perceived or real crises can cause us to dance between free markets and regulatory power. Much like the events of 1929, current financial concerns have led to new, unprecedented governmental intervention into the private sector. This Article seeks caution, on the basis of history, arguing that fear and crisis mentality lead to legal reforms that become permanent and may be the result of an irrational reaction. At times of crisis, individuals succumb to increased governmental authority. But, when the real or perceived crisis subsides, many accepted increases in governmental authority empirically tend to be irreversible. Temporary satisfaction can bring long-term consequences. The crux of this cautionary tale is that crises can gray the legitimacy of governmental power and the citizenry's acceptance thereof.
Keywords
black tuesday,
depression,
stock market crash,
bailouts,
stimulus,
recession,
financial crisis,
fear,
socialism,
capitalism,
crisis theory,
market economy,
spending,
history,
market intervention,
law and economics,
bureaucracy
Citation Information
Donald J. Kochan. "Black Tuesday and Graying the Legitimacy Line for Governmental Intervention: When Tomorrow is Just a Future Yesterday"
Nexus
Vol. 13 Iss. 1 (2010)
Available at: http://works.bepress.com/donald_kochan/19/