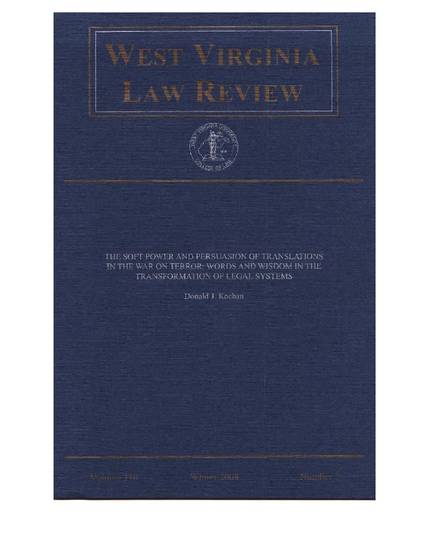 Article
The Soft Power and Persuasion of Translations in the War on Terror: Words and Wisdom in the Transformation of Legal Systems
West Virginia Law Review (2008)
Abstract
The power of words is the power of persuasion. The exportation of the foundational legal principles that helped form the American republic can serve as instrumental "soft power" tools in the war on terror. Efforts promoting projects like the Arabic Book Program are important vehicles to cross-cultural and cross-lingual international relations. This Article argues that an arsenal of words can be as, or more, powerful than an arsenal of artillery. The West has much to offer, but the rest of the world needs to be able to read it without getting lost in translation. Providing linguistic access to the documents that have spurred American progress economically and in governance can be a valuable tool for international peace and progress. For that effort, translations are key.
Keywords
Translations,
Soft Power,
Terrorism,
Persuasion,
International Law,
International Relations,
Foreign Policy
Citation Information
Donald J. Kochan. "The Soft Power and Persuasion of Translations in the War on Terror: Words and Wisdom in the Transformation of Legal Systems"
West Virginia Law Review
Vol. 110 Iss. 2 (2008)
Available at: http://works.bepress.com/donald_kochan/18/