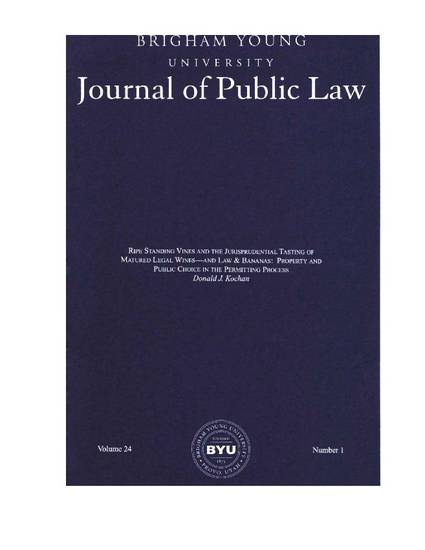 Article
Ripe Standing Vines and the Jurisprudential Tasting of Matured Legal Wines – and Law & Bananas: Property and Public Choice in the Permitting Process
Brigham Young University Journal of Public Law (2009)
Abstract
From produce to wine, we only consume things when they are ready. The courts are no different. That concept of "readiness" is how courts address cases and controversies as well. Justiciability doctrines, particularly ripeness, have a particularly important role in takings challenges to permitting decisions. The courts largely hold that a single permit denial does not give them enough information to evaluate whether the denial is in violation of law. As a result of this jurisprudential reality, regulators with discretion have an incentive to use their power to extract rents from those that need their permission. Non-justiciability of permit denials creates perverse incentives for regulators. This Article examines that phenomenon.
Keywords
ripeness,
permitting,
public choice,
rent-seeking,
rent-extraction,
land use,
takings,
regulation,
standing,
justiciability,
final decision,
administrative law,
property,
environmental,
planning,
courts,
agencies,
jurisdiction
Citation Information
Donald J. Kochan. "Ripe Standing Vines and the Jurisprudential Tasting of Matured Legal Wines – and Law & Bananas: Property and Public Choice in the Permitting Process"
Brigham Young University Journal of Public Law
Vol. 24 Iss. 1 (2009)
Available at: http://works.bepress.com/donald_kochan/13/