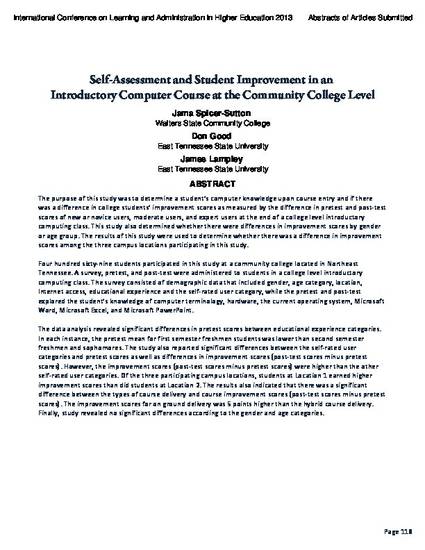 Presentation
Self-Assessment and Student Improvement in an Introductory Computer Course at the Community College Level
International Conference on Learning and Administration in Higher Education
Document Type
Conference Proceeding
Publication Date
5-22-2013
Date Range
05/22/2013-05/24/2013
Description
Excerpt:The purpose of this study was to determine a student's computer knowledge upon course entry and if there was a difference in college students' improvement scores as measured by the difference in pretest and post‐test scores of new or novice users, moderate users, and expert users at the end of a college level introductory computing class.
Posted Versions
Published PDF
Citation Information
Jama Spicer-Sutton, James Lampley and Donald W. Good. "Self-Assessment and Student Improvement in an Introductory Computer Course at the Community College Level"
International Conference on Learning and Administration in Higher Education
(2013) p. 118
Available at: http://works.bepress.com/donald-good/15/