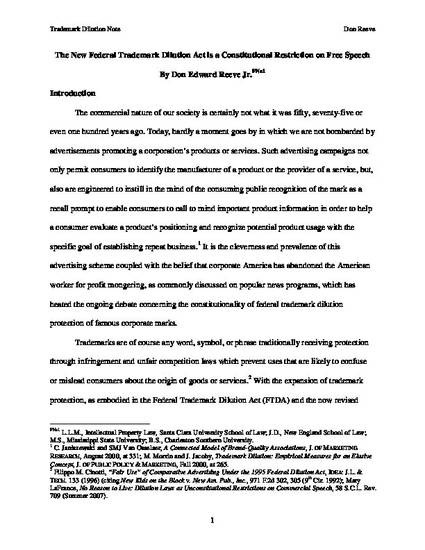 Unpublished Paper
The New Federal Trademark Dilution Act is a Constitutional Restriction on Free Speech
ExpressO (2008)
Abstract
The Note discusses the constitutionality of the Federal Trademark Dilution Act of 2006 (FTDRA) in light of First Amendment concerns by discussing and analyzing 1) the history and evolution of trademark dilution protection while attempting to clarify the confusion over the definition of dilution, 2) the perceived conflict between trademark dilution protection and the First Amendment noting the foundational arguments supporting the criticism of the FTDRA, and 3) the specific criticisms of the FTDRA. The Note then proceeds to apply the legal principals governing First Amendment protection to the current federal statute and argues that the FTDRA does not threaten free speech, but actually makes it more difficult for a famous mark holder to establish dilution liability against a junior user making a fair use of the famous mark. Accordingly, the Note argues that the FTDRA clearly expands the First Amendment fair use protections and only prohibits a defendant from making a fair use defense when consumer confusion is applicable. Therefore, the FTDRA, by denying First Amendment protection to those uses which invoke consumer confusion, only prohibits First Amendment protection for speech which is fraudulent or misleading to the consuming public. As a result, the FTDRA offers full First Amendment protection to those accused of dilution and thus federal trademark dilution protection, as expressed by the FTDRA, does not chill free speech nor violate First Amendment principles.
Keywords
trademark,
trademarks,
dilution,
trademark dilution,
federal trademark diltuion,
federal trademark dilution act,
federal trademark dilution revision act,
federal trademark dilution act of 2006,
FTDA,
FTDRA
Publication Date
June 13, 2008
Citation Information
Don E Reeve. "The New Federal Trademark Dilution Act is a Constitutional Restriction on Free Speech"
ExpressO
(2008)
Available at: http://works.bepress.com/don_reeve/1/