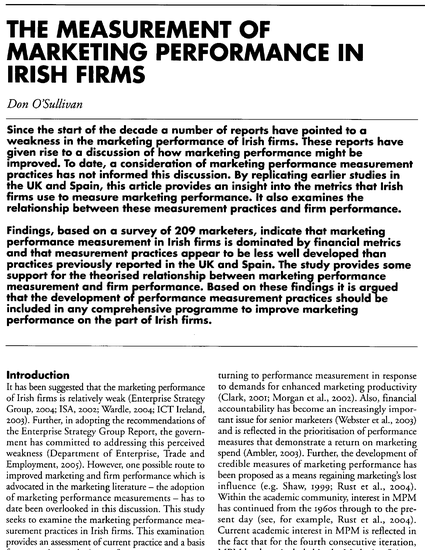 Article
The Measurement of Marketing Performance In Irish Firms
Irish Marketing Review (2007)
Abstract
This paper provides an insight into the metrics that Irish firms us to measure marketing performance The paper also examines the relationship between these measurement practices and firm performance. Findings, based on a survey of 209 marketers, indicate that marketing performance measurement in Irish firms is dominated by financial metrics and that measurement practices appear to be less well developed than practices previously reported in the UK and Spain. The study provides some support for the theorised relationship between marketing performance measurement and firm performance. Based on these findings it is argued that the development of performance measurement practices should be included in any comprehensive program to improve marketing performance within this market.
Citation Information
O'Sullivan, D. "The Measurement of Marketing Performance in Irish Firms"
Irish Marketing Review
, 2007, Vol. 19, No.1/2, 26-36.