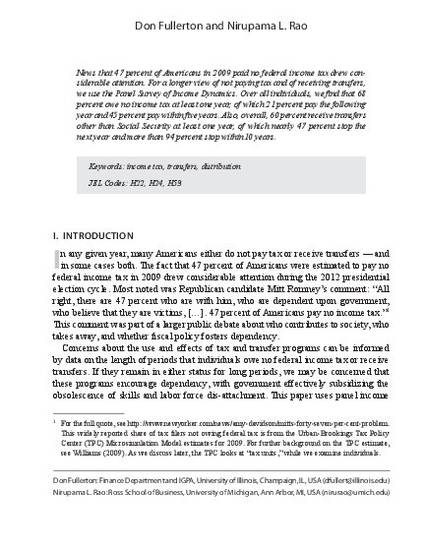 Article
The Lifecycle of the 47 Percent
National Tax Journal (2019)
Abstract
The news that 47% of Americans in 2009 did not owe federal income tax drew considerable attention. For a longer view of not paying tax and of receiving transfers, we use the Panel Survey of Income Dynamics. Over all individuals, we find that 68% owe no income tax in at least one year, and 60% receive transfers other than Social Security in at least one year. Of those not owing income tax, 21% pay tax the following year, and 45% contribute within five years. Of those receiving such transfers, nearly 47% stop the next year, and more than 94% stop within ten years. Examining annual cohorts, each over ten years, we find that survival rates for not owing federal income tax have risen over time, while receipt of transfers other than Social Security shows no secular trend.
Publication Date
June, 2019
Citation Information
Don Fullerton and Nirupama S. Rao. "The Lifecycle of the 47 Percent"
National Tax Journal
Vol. 72 Iss. 2 (2019)
Available at: http://works.bepress.com/don_fullerton/76/