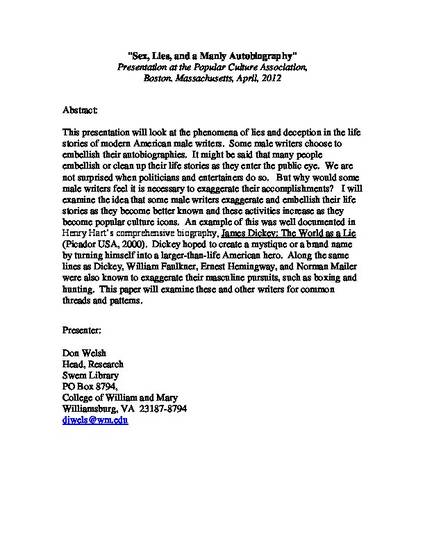 Presentation
"Sex, Lies, and a Manly Autobiography"
Popular Culture Association (2012)
Abstract
This presentation will look at the phenomena of lies and deception in the life stories of modern American male writers.  Some male writers choose to embellish their autobiographies.  It might be said that many people embellish or clean up their life stories as they enter the public eye.  We are not surprised when politicians and entertainers do so.   But why would some male writers feel it is necessary to exaggerate their accomplishments?   I will examine the idea that some male writers exaggerate and embellish their life stories as they become better known and these activities increase as they become popular culture icons.  An example of this was well documented in Henry Hart's comprehensive biography, 
James Dickey: The World as a Lie
(Picador USA, 2000).  Dickey hoped to create a mystique or a brand name by turning himself into a larger-than-life American hero.  Along the same lines as Dickey, William Faulkner, Ernest Hemingway, and Norman Mailer were also known to exaggerate their masculine pursuits, such as boxing and hunting.  This paper will examine these and other writers for common threads and patterns.
Keywords
Autobiography,
William Faulkner,
Ernest Hemingway,
James Dickey,
Norman Mailer
Publication Date
Spring April, 2012
Citation Information
Don J. Welsh. ""Sex, Lies, and a Manly Autobiography""
Popular Culture Association
(2012)
Available at: http://works.bepress.com/don-welsh/1/