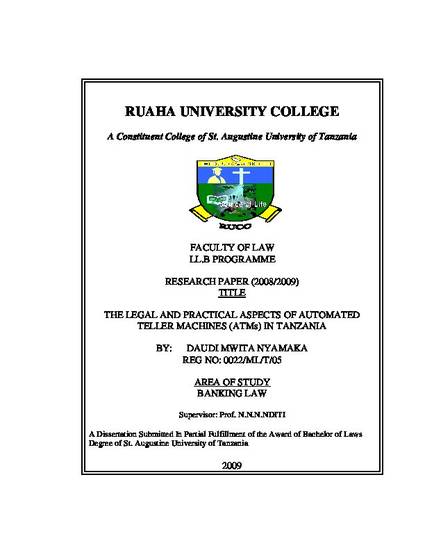 Article
The Legal and Practical Aspects of ATM's in Tanzania
Ruaha University College Publications (2009)
Abstract
The concern of our study was to examine the legal and practical aspects of ATMs in Tanzania. The major problems that were being examined are; the 24 hours operation on ATMs vis-à-vis system failure or error and the system of one bank allowing cardholders of another bank to use its ATMs. With the first problem, all banks in Tanzania with ATMs have attractive advertisements to customers that affirm sufficient services in any time of the day but in reality, the machines usually fail to respond the instructions of the cardholder regardless the fact that the cardholder inserts the card and the PIN properly. On the other hand, issuing banks normally have links with other banks that allow their cardholders to use ATMs of such other banks making the paying bank a third party to the contract but this contract is between the issuing bank and the paying bank. From such agreement the cardholder as he agrees with the terms in the card also agrees with the terms of the paying bank. The endeavour"s to pursue this task were guided by the assumption that; there is no sound legal basis for ATMs in Tanzania. We employed interview and observation in the field as our tools to collect the data. The existing laws in Tanzania provide a general guidance to ATMs because there is no specific legislation to govern electronic transactions. This makes it difficult to respond sufficiently to changes in banking industry. The banks can incorporate unfair terms in the conditions on the cards because there is no other governing law in making contracts that protect customers, all contracts are governed by the Law of Contract Act.
Publication Date
Spring July 28, 2009
Citation Information
Daudi Mwita Nyamaka. "The Legal and Practical Aspects of ATM's in Tanzania"
Ruaha University College Publications
Vol. 01 Iss. 02 (2009)
Available at: http://works.bepress.com/dmnyamaka/3/