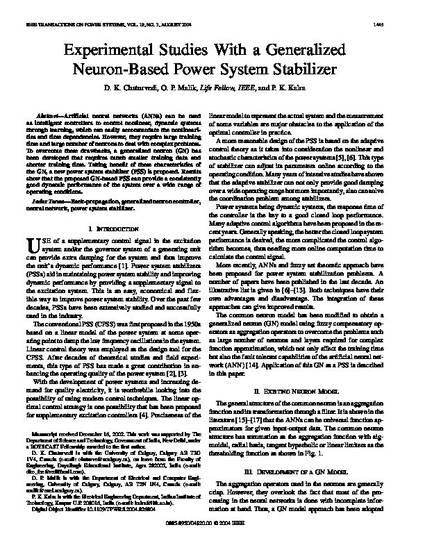 Article
Experimental Studies of Generalized Neuron Based Power System Stabilizer
IEEE Trans. on Power systems (2004)
Abstract
Artificial neural networks (ANNs) can be used as intelligent controllers to control nonlinear, dynamic systems through learning, which can easily accommodate the nonlinearities and time dependencies. However, they require large training time and large number of neurons to deal with complex problems. To overcome these drawbacks, a generalized neuron (GN) has been developed that requires much smaller training data and shorter training time. Taking benefit of these characteristics of the GN, a new power system stabilizer (PSS) is proposed. Results show that the proposed GN-based PSS can provide a consistently good dynamic performance of the system over a wide range of operating conditions.
Keywords
Back-propagation,
generalized neuron controller,
neural network,
power system stabilizer
Publication Date
August, 2004
Citation Information
D. K. Chaturvedi, O. P. Malik and P. K. Kalra. "Experimental Studies of Generalized Neuron Based Power System Stabilizer"
IEEE Trans. on Power systems
Vol. 19 Iss. 3 (2004)
Available at: http://works.bepress.com/dk_chaturvedi/11/