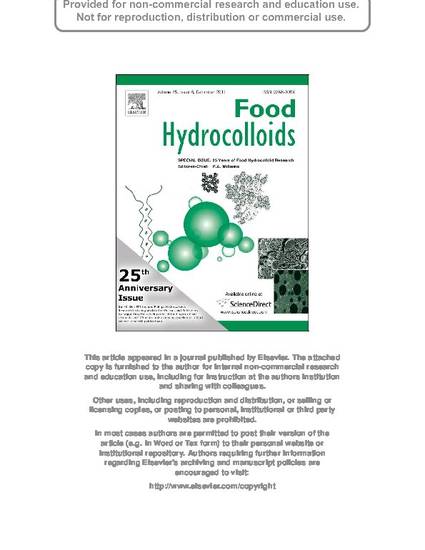 Article
Structured Biopolymer-Based Delivery Systems for Encapsulation, Protection, and Release of Lipophilic Compounds
Food Hydrocolloids (2011)
Abstract
Food-grade biopolymers, such as proteins and polysaccharides, can be used to create a diverse range of delivery systems suitable for encapsulating, protecting, and delivering lipophilic functional components, such as ω-3 rich oils, conjugated linoleic acid (CLA), oil-soluble vitamins, flavors, colors, and nutraceuticals. This article provides an overview of a number of different approaches that can be used to create structured delivery systems based on biopolymers, including molecular complexation, coacervation, thermodynamic incompatibility, moulding, and extrusion methods. These delivery systems can be produced from food-grade ingredients using simple processing operations (e.g., mixing, homogenizing, and thermal processing). The structure, production, performance, and potential applications of each type of structured delivery system are discussed.
Keywords
Structured delivery systems,
Biopolymers,
Proteins,
Polysaccharides,
Nutraceuticals,
Functional foods,
Structural design,
Encapsulation,
Microparticles,
Nanoparticles
Citation Information
Alison Matalanis, Owen Griffith Jones and D. Julian McClements. "Structured Biopolymer-Based Delivery Systems for Encapsulation, Protection, and Release of Lipophilic Compounds"
Food Hydrocolloids
Vol. 25 (2011)
Available at: http://works.bepress.com/djulian_mcclements/160/