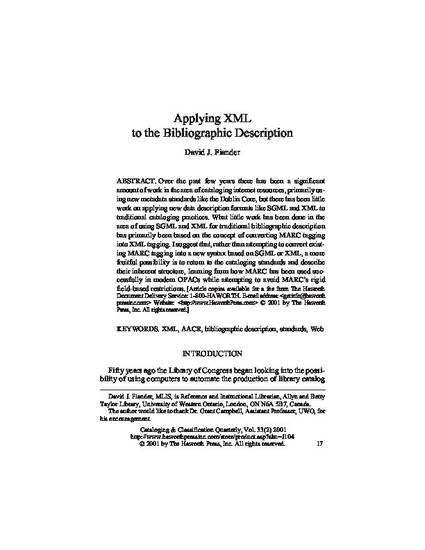 Article
Applying XML to the Bibliographic Description
Cataloging and Classification Quarterly (2001)
Abstract
Over the past few years there has been a significant amount of work in the area of cataloging internet resources, primarily us- ing new metadata standards like the Dublin Core, but there has been little work on applying new data description formats like SGML and XML to traditional cataloging practices. What little work has been done in the area of using SGML and XML for traditional bibliographic description has primarily been based on the concept of converting MARC tagging into XML tagging. I suggest that, rather than attempting to convert exist- ing MARC tagging into a new syntax based on SGML or XML, a more fruitful possibility is to return to the cataloging standards and describe their inherent structure, learning from how MARC has been used suc- cessfully in modern OPACs while attempting to avoid MARC's rigid field-based restrictions.
Keywords
xml,
aacr,
bibliographic description,
standards,
cataloguing
Citation Information
David J Fiander. "Applying XML to the Bibliographic Description"
Cataloging and Classification Quarterly
Vol. 33 Iss. 2 (2001)
Available at: http://works.bepress.com/djfiander/3/