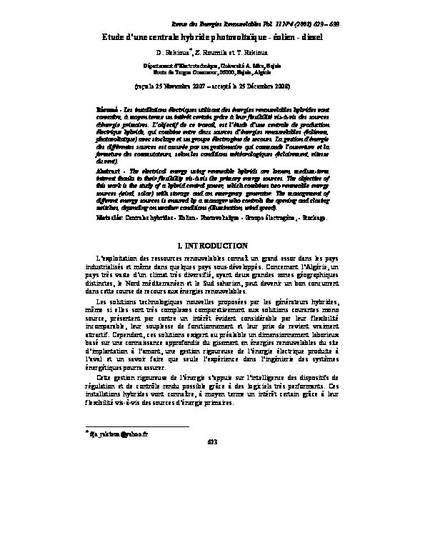 Article
Etude d'une centrale hybride photovoltaïque - éolien - diesel
Revue des Energies Renouvelables (2008)
Abstract
The electrical energy using renewable hybrids are known, medium-term interest thanks to their flexibility vis-à-vis the primary energy sources. The objective of this work is the study of a hybrid central power, which combines two renewable energy sources (wind, solar) with storage and an emergency generator. The management of different energy sources is ensured by a manager who controls the opening and closing switches, depending on weather conditions (illumination, wind speed).
Keywords
Centrales hybrides - Eolien - Photovoltaïque - Groupe électrogène- Stockage.
Citation Information
Djamila Rekioua. "Etude d'une centrale hybride photovoltaïque - éolien - diesel"
Revue des Energies Renouvelables
Vol. Vol. 11 Iss. N°4 (2008)
Available at: http://works.bepress.com/djamila_rekioua/35/