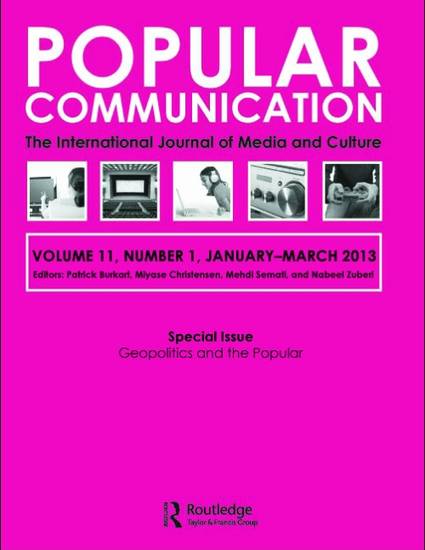 Article
Local Identities in Globalized Regions: Teens, Everyday Life, and Television
Popular Communication
Publication Date
10-1-2009
Abstract
This article presents qualitative research exploring how one consumer group, urban teenagers 14-15 years old, in four global cities — Johannesburg (South Africa), Bangalore (India), Munich (Germany), and New York (United States) — articulate and negotiate their identities on the ground. It takes into account the transnational television networks reaching them along with government sponsored national and privately owned local ones. Our comparative analyses of teens talking about their everyday lives and television reveal similarities and differences in their lived realities and in their relationships to and interpretations of television programs and characters. The findings show patterns clustered around the teens' gender, class, and teen identities, but these are complicated by their experiences of family, peers, school, religion, language, and nation, as well as different regional television offerings. Television played a role in their ongoing journeys toward selfhood; these journeys are thoroughly grounded by their social and cultural backgrounds and situations.
DOI
10.1080/15405700903221343
Version
pre-print, post-print with18-month embargo
Citation Information
Divya C. McMillin and JoEllen Fisherkeller. "Local Identities in Globalized Regions: Teens, Everyday Life, and Television"
Popular Communication
Vol. 7 Iss. 4 (2009) p. 237 - 251
Available at: http://works.bepress.com/divya_mcmillin/1/