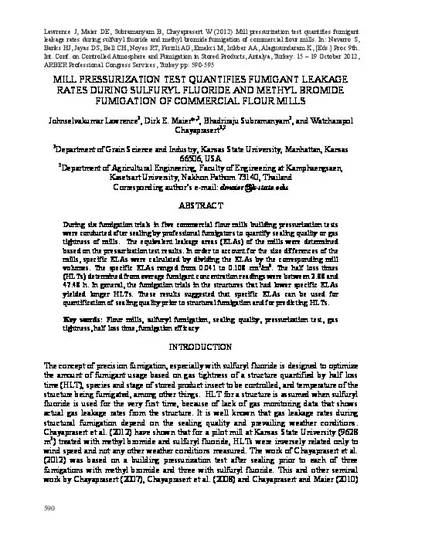 Presentation
Mill pressurization test quantifies fumigant leakage rates during sulfuryl fluoride and methyl bromide fumigation of commercial flour mills
9th International Conference on Controlled Atmosphere and Fumigation in Stored Products (2012)
Abstract
During six fumigation trials in five commercial flour mills building pressurization tests were conducted after sealing by professional fumigators to quantify sealing quality or gas tightness of mills. The equivalent leakage areas (ELAs) of the mills were determined based on the pressurization test results. In order to account for the size differences of the mills, specific ELAs were calculated by dividing the ELAs by the corresponding mill volumes. The specific ELAs ranged from 0.041 to 0.108 cm2 /m3 . The half loss times (HLTs) determined from average fumigant concentration readings were between 2.88 and 47.48 h. In general, the fumigation trials in the structures that had lower specific ELAs yielded longer HLTs. These results suggested that specific ELAs can be used for quantification of sealing quality prior to structural fumigation and for predicting HLTs.
Keywords
Flour mills,
sulfuryl fumigation,
sealing quality,
pressurization test,
gas tightness,
half loss time,
fumigation efficacy
Publication Date
October, 2012
Citation Information
Dirk E. Maier, Johnselvakumar Lawrence, Bhadriraju Subramanyam and Watcharapol Chayaprasert. "Mill pressurization test quantifies fumigant leakage rates during sulfuryl fluoride and methyl bromide fumigation of commercial flour mills"
9th International Conference on Controlled Atmosphere and Fumigation in Stored Products
(2012)
Available at: http://works.bepress.com/dirk-maier/38/