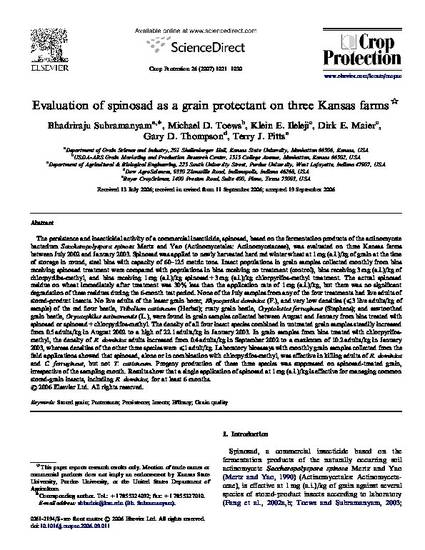 Article
Evaluation of spinosad as a grain protectant on three Kansas farms
Crop Protection (2007)
Abstract
The persistence and insecticidal activity of a commercial insecticide, spinosad, based on the fermentation products of the actinomycete bacterium Saccharopolyspora spinosa Mertz and Yao (Actinomycetales: Actinomycetaceae), was evaluated on three Kansas farms between July 2002 and January 2003. Spinosad was applied to newly harvested hard red winter wheat at 1 mg (a.i.)/kg of grain at the time of storage in round, steel bins with capacity of 60–125 metric tons. Insect populations in grain samples collected monthly from bins receiving spinosad treatment were compared with populations in bins receiving no treatment (control), bins receiving 3 mg (a.i.)/kg of chlorpyrifos-methyl, and bins receiving 1 mg (a.i.)/kg spinosad+3 mg (a.i.)/kg chlorpyrifos-methyl treatment. The actual spinosad residue on wheat immediately after treatment was 30% less than the application rate of 1 mg (a.i.)/kg, but there was no significant degradation of these residues during the 6-month test period. None of the July samples from any of the four treatments had live adults of stored-product insects. No live adults of the lesser grain borer, Rhyzopertha dominica (F.), and very low densities (⩽3 live adults/kg of sample) of the red flour beetle, Tribolium castaneum (Herbst); rusty grain beetle, Cryptolestes ferrugineus (Stephens); and sawtoothed grain beetle, Oryzaephilus surinamensis (L.), were found in grain samples collected between August and January from bins treated with spinosad or spinosad+chlorpyrifos-methyl. The density of all four insect species combined in untreated grain samples steadily increased from 0.5 adults/kg in August 2002 to a high of 22.1 adults/kg in January 2003. In grain samples from bins treated with chlorpyrifos-methyl, the density of R. dominica adults increased from 0.4 adults/kg in September 2002 to a maximum of 10.2 adults/kg in January 2003, whereas densities of the other three species were ⩽1 adult/kg. Laboratory bioassays with monthly grain samples collected from the field applications showed that spinosad, alone or in combination with chlorpyrifos-methyl, was effective in killing adults of R. dominica and C. ferrugineus, but not T. castaneum. Progeny production of these three species was suppressed on spinosad-treated grain, irrespective of the sampling month. Results show that a single application of spinosad at 1 mg (a.i.)/kg is effective for managing common stored-grain insects, including R. dominica, for at least 6 months.
Keywords
Stored grain,
Protectants,
Persistence,
Insects,
Efficacy,
Grain Quality
Publication Date
July, 2007
DOI
10.1016/j.cropro.2006.09.011
Citation Information
Bhadriraju Subramanyam, Michael D. Toews, Klein E. Ileleji, Dirk E. Maier, et al.. "Evaluation of spinosad as a grain protectant on three Kansas farms"
Crop Protection
Vol. 26 Iss. 7 (2007) p. 1021 - 1030
Available at: http://works.bepress.com/dirk-maier/32/