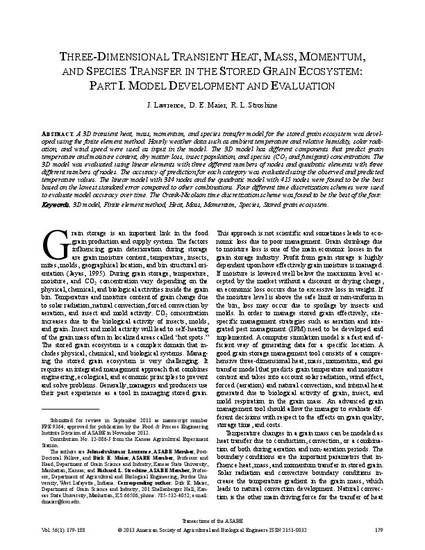 Article
Three-Dimensional Transient Heat, Mass, Momentum, and Species Transfer in the Stored Grain Ecosystem: Part I. Model Development and Evaluation
Transactions of the ASABE (2013)
Abstract
A 3D transient heat, mass, momentum, and species transfer model for the stored grain ecosystem was developed using the finite element method. Hourly weather data such as ambient temperature and relative humidity, solar radiation, and wind speed were used as input in the model. The 3D model has different components that predict grain temperature and moisture content, dry matter loss, insect population, and species (CO 2 and fumigant) concentration. The 3D model was evaluated using linear elements with three different numbers of nodes and quadratic elements with three different numbers of nodes. The accuracy of prediction for each category was evaluated using the observed and predicted temperature values. The linear model with 384 nodes and the quadratic model with 415 nodes were found to be the best based on the lowest standard error compared to other combinations. Four different time discretization schemes were used to evaluate model accuracy over time. The Crank-Nicolson time discretization scheme was found to be the best of the four.
Keywords
3D model,
Finite element method,
Heat,
Mass,
Momentum,
Species,
Stored grain ecosystem
Citation Information
Johnselvakumar Lawrence, Dirk E. Maier and Richard L. Stroshine. "Three-Dimensional Transient Heat, Mass, Momentum, and Species Transfer in the Stored Grain Ecosystem: Part I. Model Development and Evaluation"
Transactions of the ASABE
Vol. 56 Iss. 1 (2013) p. 179 - 188 ISSN: 2151-0032
Available at: http://works.bepress.com/dirk-maier/28/