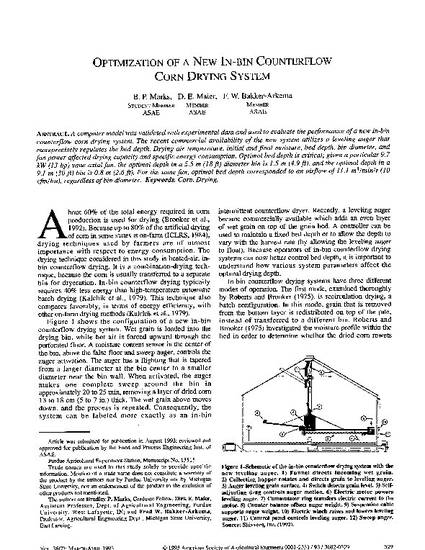 Article
Optimization of a New In-bin Counterflow Corn Drying System
Transactions of the ASAE (1993)
Abstract
A computer model was validated with experimental data and used to evaluate the performance of a new in-bin counterflow corn drying system. The recent commercial availability of the new system utilizes a leveling auger that moreprecisely regulates the bed depth. Drying air temperature, initial and final moisture, bed depth, bin diameter, and fan power affected drying capacity and specific energy consumption. Optimal bed depth is critical; given a particular 9.7 kW (13 hp) vane-axial fan, the optimal depth in a 5.5 m (18 ft) diameter bin is 1.5 m (4.9 ft), and the optimal depth in a 9.1 m (30 ft) bin is 0.8 m (2.6 ft). For the same fan, optimal bed depth corresponded to an airflow of 11.1 m3/min/t (10 cfm/bu), regardless of bin diameter.
Citation Information
Bradley P. Marks, Dirk E. Maier and Fred W. Bakker-Arkema. "Optimization of a New In-bin Counterflow Corn Drying System"
Transactions of the ASAE
Vol. 36 Iss. 2 (1993) p. 529 - 534 ISSN: 0001-2351
Available at: http://works.bepress.com/dirk-maier/19/