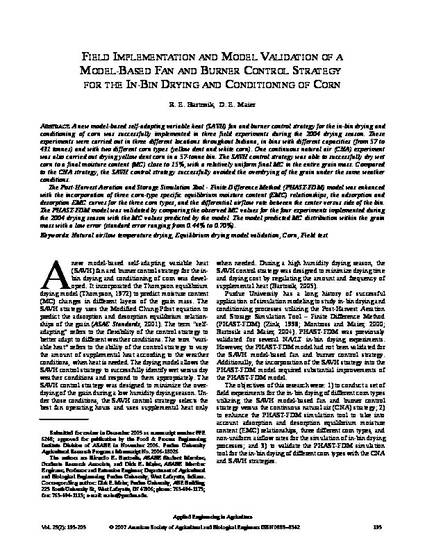 Article
Field Implementation and Model Validation of a Model-Based Fan and Burner Control Strategy for the In-Bin Drying and Conditioning of Corn
Applied Engineering in Agriculture (2007)
Abstract
A new model-based self-adapting variable heat (SAVH) fan and burner control strategy for the in-bin drying and conditioning of corn was successfully implemented in three field experiments during the 2004 drying season. These experiments were carried out in three different locations throughout Indiana, in bins with different capacities (from 57 to 431 tonnes) and with two different corn types (yellow dent and white corn). One continuous natural air (CNA) experiment was also carried out drying yellow dent corn in a 57-tonne bin. The SAVH control strategy was able to successfully dry wet corn to a final moisture content (MC) close to 15%, with a relatively uniform final MC in the entire grain mass. Compared to the CNA strategy, the SAVH control strategy successfully avoided the overdrying of the grain under the same weather conditions.
The Post-Harvest Aeration and Storage Simulation Tool - Finite Difference Method (PHAST-FDM) model was enhanced with the incorporation of three corn-type specific equilibrium moisture content (EMC) relationships, the adsorption and desorption EMC curves for the three corn types, and the differential airflow rate between the center versus side of the bin. The PHAST-FDM model was validated by comparing the observed MC values for the four experiments implemented during the 2004 drying season with the MC values predicted by the model. The model predicted MC distribution within the grain mass with a low error (standard error ranging from 0.44% to 0.70%).
Keywords
Natural air/low temperature drying,
Equilibrium drying model validation,
Corn,
Field test
Citation Information
Ricardo E. Bartosik and Dirk E. Maier. "Field Implementation and Model Validation of a Model-Based Fan and Burner Control Strategy for the In-Bin Drying and Conditioning of Corn"
Applied Engineering in Agriculture
Vol. 23 Iss. 2 (2007) p. 195 - 205 ISSN: 0883-8542
Available at: http://works.bepress.com/dirk-maier/16/