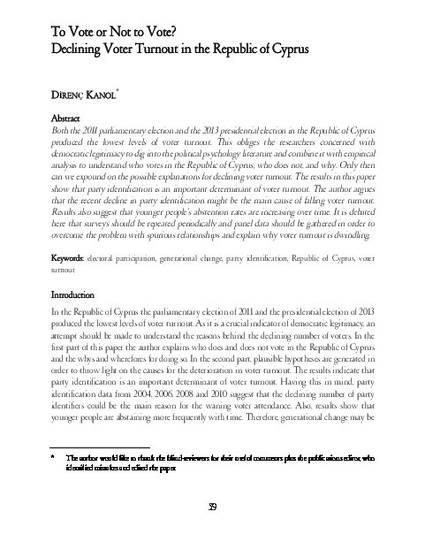 Article
To Vote or nor to Vote? Declining Voter Turnout in the Republic of Cyprus
The Cyprus Review (2013)
Abstract
Both the 2011 parliamentary election and the 2013 presidential election in the Republic of Cyprus produced the lowest levels of voter turnout. This obliges the researchers concerned with democratic legitimacy to dig into the political psychology literature and combine it with empirical analysis to understand who votes in the Republic of Cyprus, who does not, and why. Only then can we expound on the possible explanations for declining voter turnout. The results in this paper show that party identification is an important determinant of voter turnout. The author argues that the recent decline in party identification might be the main cause of falling voter turnout. Results also suggest that younger people's abstention rates are increasing over time. It is debated here that surveys should be repeated periodically and panel data should be gathered in order to overcome the problem with spurious relationships and explain why voter turnout is dwindling.
Publication Date
Fall 2013
Citation Information
Direnç Kanol. "To Vote or nor to Vote? Declining Voter Turnout in the Republic of Cyprus"
The Cyprus Review
Vol. 25 Iss. 2 (2013)
Available at: http://works.bepress.com/direnc_kanol/8/