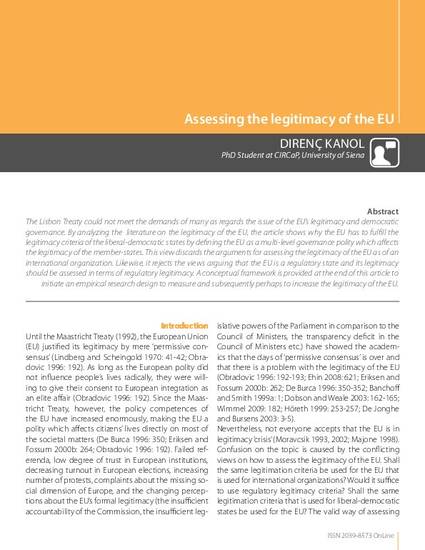 Article
Assessing the Legitimacy of the EU
Interdisciplinary Political Studies (2011)
Abstract
The Lisbon Treaty could not meet the demands of many as regards the issue of the EU's legitimacy and democratic governance. By analyzing the literature on the legitimacy of the EU, the article shows why the EU has to fulfill the legitimacy criteria of the liberal-democratic states by defining the EU as a multi-level governance polity which affects the legitimacy of the member-states. This view discards the arguments for assessing the legitimacy of the EU as of an international organization. Likewise, it rejects the views arguing that the EU is a regulatory state and its legitimacy should be assessed in terms of regulatory legitimacy. A conceptual framework is provided at the end of this article to initiate an empirical research design to measure and subsequently perhaps to increase the legitimacy of the EU.
Keywords
Legitimacy,
Democratic Deficit,
European Union Politics
Publication Date
February, 2011
Citation Information
Direnc Kanol. "Assessing the Legitimacy of the EU"
Interdisciplinary Political Studies
Vol. 1 (2011)
Available at: http://works.bepress.com/direnc_kanol/4/