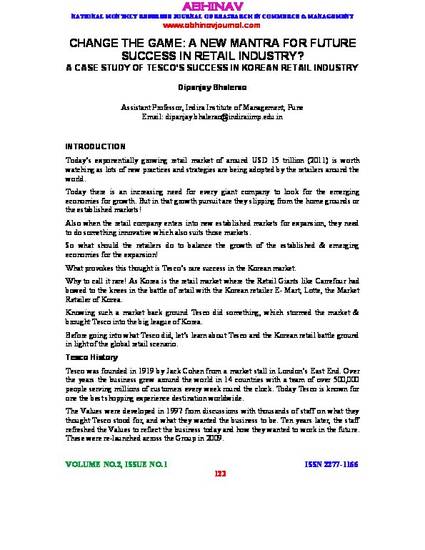 Article
CHANGE THE GAME: A NEW MANTRA FOR FUTURE SUCCESS IN RETAIL INDUSTRY? A CASE STUDY OF TESCO'S SUCCESS IN KOREAN RETAIL INDUSTRY
ABHINAV NATIONAL MONTHLY REFEREED JOURNAL OF REASEARCH IN COMMERCE & MANAGEMENT (2013)
Abstract
Today there is an increasing need for every giant company to look for the emerging economies for growth. But in that growth pursuit are they slipping from the home grounds or the established markets!
Also when the retail company enters into new established markets for expansion, they need to do something innovative which also suits those markets.
So what should the retailers do to balance the growth of the established & emerging economies for the expansion!
What provokes this thought is Tesco's rare success in the Korean market.
Why to call it rare! As Korea is the retail market where the Retail Giants like Carrefour had bowed to the knees in the battle of retail with the Korean retailer E- Mart, Lotte, the Market Retailer of Korea.
Knowing such a market back ground Tesco did something, which stormed the market & brought Tesco into the big league of Korea.
Before going into what Tesco did, let's learn about Tesco and the Korean retail battle ground in light of the global retail scenario.
Publication Date
Winter January 10, 2013
Citation Information
Dipanjay Jayant Bhalerao. "CHANGE THE GAME: A NEW MANTRA FOR FUTURE SUCCESS IN RETAIL INDUSTRY? A CASE STUDY OF TESCO'S SUCCESS IN KOREAN RETAIL INDUSTRY"
ABHINAV NATIONAL MONTHLY REFEREED JOURNAL OF REASEARCH IN COMMERCE & MANAGEMENT
Vol. 2 Iss. 1 (2013)
Available at: http://works.bepress.com/dipanjay_bhalerao/8/