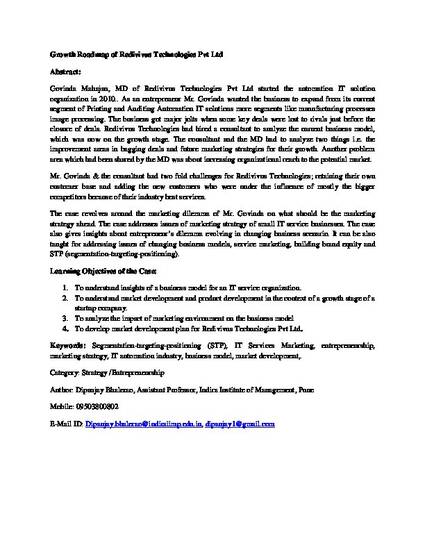 Presentation
Growth Roadmap of Redivivus Technologies Pvt Ltd
International Case Study Conference 2015, (2015)
Abstract
Govinda Mahajan, MD of Redivivus Technologies Pvt Ltd started the automation IT solution organization in 2010.. As an entrepreneur Mr. Govinda wanted the business to expand from its current segment of Printing and Auditing Automation IT solutions more segments like manufacturing processes image processing. The business got major jolts when some key deals were lost to rivals just before the closure of deals. Redivivus Technologies had hired a consultant to analyze the current business model, which was now on the growth stage. The consultant and the MD had to analyze two things i.e. the improvement areas in bagging deals and future marketing strategies for their growth. Another problem area which had been shared by the MD was about increasing organizational reach to the potential market. Mr. Govinda & the consultant had two fold challenges for Redivivus Technologies; retaining their own customer base and adding the new customers who were under the influence of mostly the bigger competitors because of their industry best services. The case revolves around the marketing dilemma of Mr. Govinda on what should be the marketing strategy ahead. The case addresses issues of marketing strategy of small IT service businesses. The case also gives insights about entrepreneur's dilemma evolving in changing business scenario. It can be also taught for addressing issues of changing business models, service marketing, building brand equity and STP (segmentation-targeting-positioning). Learning Objectives of the Case: 1. To understand insights of a business model for an IT service organization. 2. To understand market development and product development in the context of a growth stage of a startup company. 3. To analyze the impact of marketing environment on the business model 4. To develop market development plan for Redivivus Technologies Pvt Ltd.
Keywords
Segmentation-targeting-positioning (STP),
IT Services Marketing,
entrepreneurship,
marketing strategy,
IT automation industry,
business model,
market development
Publication Date
Fall August 7, 2015
Citation Information
Dipanjay Jayant Bhalerao. "Growth Roadmap of Redivivus Technologies Pvt Ltd"
International Case Study Conference 2015,
(2015)
Available at: http://works.bepress.com/dipanjay_bhalerao/2/