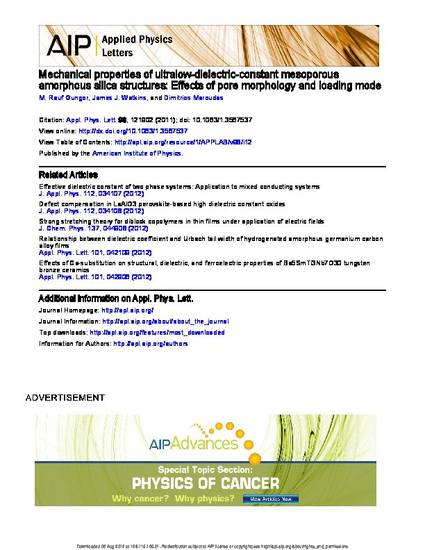 Article
Mechanical Behavior of Ultra-low-dielectric-constant Mesoporous Amorphous Silica
Applied Physics Letters (2011)
Abstract
We report results for the dependence of the mechanical properties of ordered mesoporous silica structures on the pore diameter based on molecular-dynamics simulations. We examine structures with spherical pores arranged in a simple cubic lattice and cylindrical pores arranged in a square lattice subjected to uniaxial tension and compression; for the structures with cylindrical pores, both radial and axial loading is studied with respect to the pore orientation. Our analysis provides a unifying explanation to the observed mechanical response based on the mechanical loading effects on the pore wall thickness.
Citation Information
Dimitrios Maroudas, M. R Gungor and J. J Watkins. "Mechanical Behavior of Ultra-low-dielectric-constant Mesoporous Amorphous Silica"
Applied Physics Letters
Vol. 98 Iss. 12 (2011)
Available at: http://works.bepress.com/dimitrios_maroudas/3/