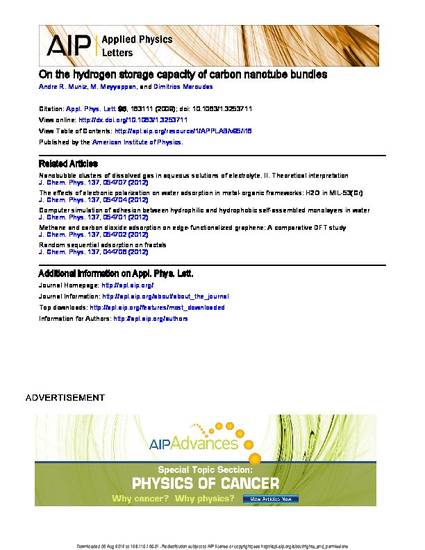 Article
On the Hydrogen Storage Capacity of Carbon Nanotube Bundles
Applied Physics Letters (2009)
Abstract
An analytical model is presented to describe the effect of carbon nanotube (CNT) swelling upon hydrogenation on the hydrogen storage capacity of single-walled CNT bundles; the model is properly parameterized using atomistic calculations for the relationship between CNT swelling and the degree of hydrogenation as measured by the coverage of the CNTs by chemisorbed atomic H. The model generates experimentally testable hypotheses, which can be used to explain the lower H storage capacities reported for CNT bundles and the experimentally observed nonuniformity of hydrogenation of CNT bundles.
Citation Information
Dimitrios Maroudas, A. R Muniz and M. Meyyappan. "On the Hydrogen Storage Capacity of Carbon Nanotube Bundles"
Applied Physics Letters
Vol. 95 Iss. 16 (2009)
Available at: http://works.bepress.com/dimitrios_maroudas/10/