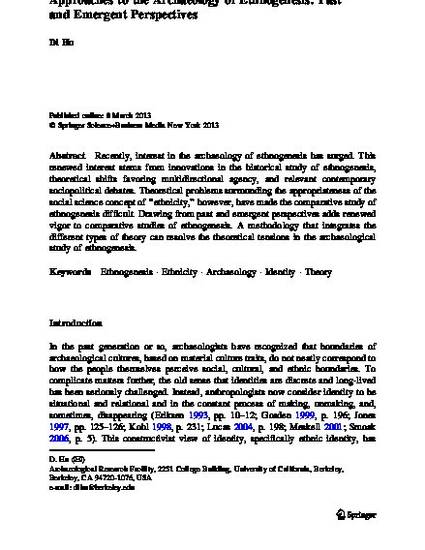 Article
Approaches to the Archaeology of Ethnogenesis: Past and Emergent Perspectives
Journal of Archaeological Research (2013)
Abstract
Recently, interest in the archaeology of ethnogenesis has surged. This renewed interest stems from innovations in the historical study of ethnogenesis, theoretical shifts favoring multidirectional agency, and relevant contemporary sociopolitical debates. Theoretical problems surrounding the appropriateness of the social science concept of "ethnicity," however, have made the comparative study of ethnogenesis difficult. Drawing from past and emergent perspectives adds renewed vigor to comparative studies of ethnogenesis. A methodology that integrates the different types of theory can resolve the theoretical tensions in the archaeological study of ethnogenesis.
Keywords
Ethnogenesis,
Ethnicity,
Archaeology,
Identity,
Theory
Citation Information
Di Hu. "Approaches to the Archaeology of Ethnogenesis: Past and Emergent Perspectives"
Journal of Archaeological Research
Vol. 21 (2013)
Available at: http://works.bepress.com/dihu/4/