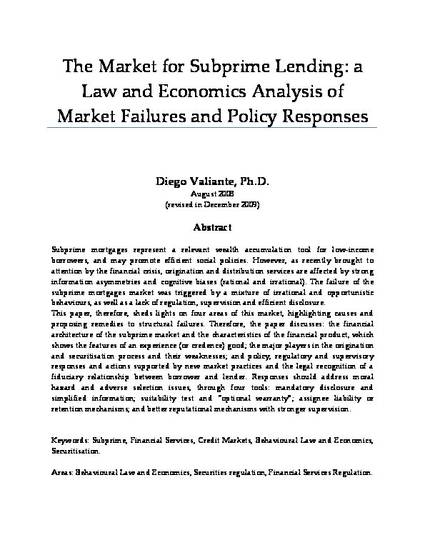 Unpublished Paper
The Market for Subprime Lending: a Law and Economics Analysis of Market Failures and Policy Responses
ExpressO (2010)
Abstract
Subprime mortgages represent a relevant wealth accumulation tool for low-income borrowers, and may promote efficient social policies. However, as recently brought to attention by the financial crisis, origination and distribution services are affected by strong information asymmetries and cognitive biases (rational and irrational). The failure of the subprime mortgages market was triggered by a mixture of irrational and opportunistic behaviours, as well as a lack of regulation, supervision and efficient disclosure. This paper, therefore, sheds lights on four areas of this market, highlighting causes and proposing remedies to structural failures. Therefore, the paper discusses: the financial architecture of the subprime market and the characteristics of the financial product, which shows the features of an experience (or credence) good; the major players in the origination and securitisation process and their weaknesses; and policy, regulatory and supervisory responses and actions supported by new market practices and the legal recognition of a fiduciary relationship between borrower and lender. Responses should address moral hazard and adverse selection issues, through four tools: mandatory disclosure and simplified information; suitability test and "optional warranty"; assignee liability or retention mechanisms; and better reputational mechanisms with stronger supervision.
Keywords
Subprime,
Financial Services,
Credit Markets,
Behavioural Law and Economics,
Securitisation
Publication Date
July 21, 2010
Citation Information
Diego Valiante. "The Market for Subprime Lending: a Law and Economics Analysis of Market Failures and Policy Responses"
ExpressO
(2010)
Available at: http://works.bepress.com/diego_valiante/1/