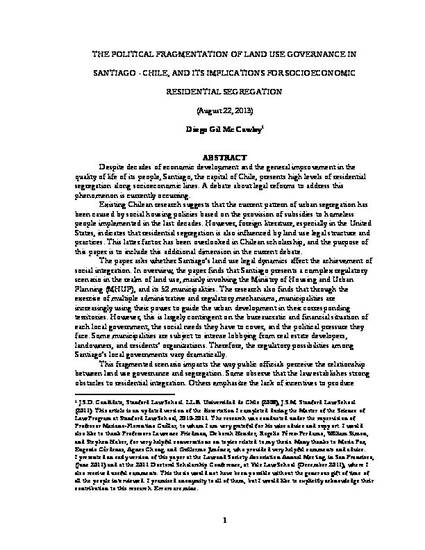 Unpublished Paper
The Political Fragmentation of Land Use Governance in Santiago, Chile, and its Implications for Socioeconomic Residential Segregation
ExpressO (2013)
Abstract
Despite decades of economic development and the general improvement in the quality of life of its people, Santiago, the capital of Chile, presents high levels of residential segregation along socioeconomic lines. A debate about legal reforms to address this phenomenon is currently occurring. Existing Chilean research suggests that the current pattern of urban segregation has been caused by social housing policies based on the provision of subsidies to homeless people implemented in the last decades. However, foreign literature, especially in the United States, indicates that residential segregation is also influenced by land use legal structure and practices. This latter factor has been overlooked in Chilean scholarship, and the purpose of this paper is to include this additional dimension in the current debate. The paper asks whether Santiago's land use legal dynamics affect the achievement of social integration. In overview, the paper finds that Santiago presents a complex regulatory scenario in the realm of land use, mainly involving the Ministry of Housing and Urban Planning (MHUP), and its 52 municipalities. The research also finds that through the exercise of multiple administrative and regulatory mechanisms, municipalities are increasingly using their power to guide the urban development in their corresponding territories. However, this is largely contingent on the bureaucratic and financial situation of each local government, the social needs they have to cover, and the political pressure they face. Some municipalities are subject to intense lobbying from real estate developers, landowners, and residents' organizations. Therefore, the regulatory possibilities among Santiago's local governments vary dramatically. This fragmented scenario impacts the way public officials perceive the relationship between land use governance and segregation. Some observe that the law establishes strong obstacles to residential integration. Others emphasize the lack of incentives to produce inclusionary housing projects. Finally, a third group considers that segregation is beyond the scope of their concern. This is especially observed in high-income districts. The findings of this paper support the idea that social housing policies based on subsidies cannot be the only remedy for socioeconomic residential segregation. Without addressing the institutional choices and incentives created by Chilean land use regulatory framework, and how this institutional structure operates in practice, social integration within Santiago's metropolitan area will remain an unattainable ideal.
Keywords
Land Use Law,
Housing Policy,
Residential Segregation,
Latin America,
Santiago,
Chile
Publication Date
August 22, 2013
Citation Information
Diego Gil Mc Cawley. "The Political Fragmentation of Land Use Governance in Santiago, Chile, and its Implications for Socioeconomic Residential Segregation"
ExpressO
(2013)
Available at: http://works.bepress.com/diego_gilmccawley/1/