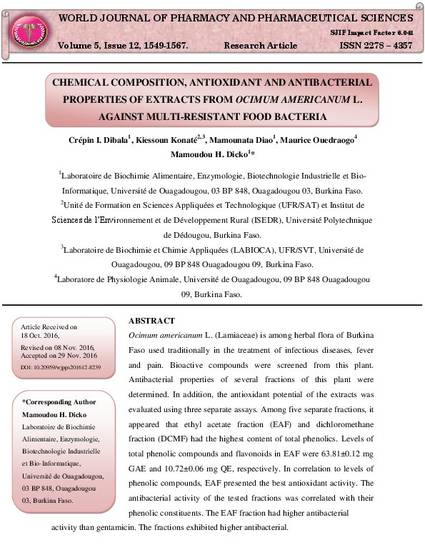 Article
CHEMICAL COMPOSITION, ANTIOXIDANT AND ANTIBACTERIAL PROPERTIES OF EXTRACTS FROM OCIMUM AMERICANUM L. AGAINST MULTI-RESISTANT FOOD BACTERIAla.pdf
WORLD JOURNAL OF PHARMACY AND PHARMACEUTICAL SCIENCES (2016)
Abstract
Ocimum americanum L. (Lamiaceae) is among herbal flora of Burkina Faso used traditionally in the treatment of infectious diseases, fever and pain. Bioactive compounds were screened from this plant. Antibacterial properties of several fractions of this plant were determined. In addition, the antioxidant potential of the extracts was evaluated using three separate assays. Among five separate fractions, it appeared that ethyl acetate fraction (EAF) and dichloromethane fraction (DCMF) had the highest content of total phenolics. Levels of total phenolic compounds and flavonoids in EAF were 63.81±0.12 mg GAE and 10.72±0.06 mg QE, respectively. In correlation to levels of phenolic compounds, EAF presented the best antioxidant activity. The antibacterial activity of the tested fractions was correlated with their phenolic constituents. The EAF fraction had higher antibacterial
activity than gentamicin. The fractions exhibited higher antibacterialactivity against Gram positive bacteria such as B. cereus than Gram negative one such as E. coli. The EAF fraction displayed the best antimicrobial activities and presented synergistic or additive effect with gentamicin. Specific extraction and fractionation of O. americanum leaves yielded useful drug against gastro-enteritis pathologies caused by Gram-negative bacteria.
Keywords
Polyphenols,
Antioxidant,
antibacterial,
Gentamicin,
Ocimum americanum
Publication Date
Winter December 5, 2016
DOI
DOI: 10.20959/wjpps201612-8239
Citation Information
Crépin I. Dibala, Kiessoum KONATE, Mamounata DIAO, Maurice OUEDRAOGO, et al.. "CHEMICAL COMPOSITION, ANTIOXIDANT AND ANTIBACTERIAL PROPERTIES OF EXTRACTS FROM OCIMUM AMERICANUM L. AGAINST MULTI-RESISTANT FOOD BACTERIAla.pdf"
WORLD JOURNAL OF PHARMACY AND PHARMACEUTICAL SCIENCES
Vol. Volume 5 Iss. 12 (2016) p. 1549 - 1567 ISSN: ISSN 2278 – 4357
Available at: http://works.bepress.com/dicko/60/
Creative Commons license
This work is licensed under a Creative Commons CC_BY-SA International License.