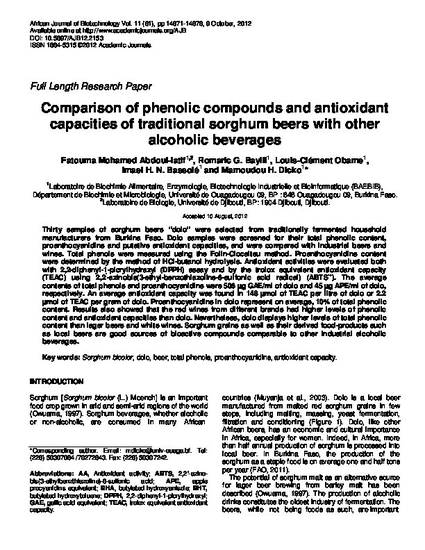 Article
Comparison of phenolic compounds and antioxidant capacities of traditional sorghum beers with other alcoholic beverages
African Journal of Biotechnology (2012)
Abstract
Thirty samples of sorghum beers "dolo" were selected from traditionally fermented household manufacturers from Burkina Faso. Dolo samples were screened for their total phenolic content, proanthocyanidins and putative antioxidant capacities, and were compared with industrial beers and wines. Total phenols were measured using the Folin-Ciocalteu method. Proanthocyanidins content were determined by the method of HCl-butanol hydrolysis. Antioxidant activities were evaluated both with 2,2-diphenyl-1-picrylhydrazyl (DPPH) assay and by the trolox equivalent antioxidant capacity (TEAC) using 2,2'-azinobis(3-ethyl-benzothiazoline-6-sulfonic acid radical) (ABTS•+). The average contents of total phenols and proanthocyanidins were 506 μg GAE/ml of dolo and 45 μg APE/ml of dolo, respectively. An average antioxidant capacity was found in 148 μmol of TEAC per litre of dolo or 2.2 μmol of TEAC per gram of dolo. Proanthocyanidins in dolo represent on average, 10% of total phenolic content. Results also showed that the red wines from different brands had higher levels of phenolic content and antioxidant capacities than dolo. Nevertheless, dolo displays higher levels of total phenolic content than lager beers and white wines. Sorghum grains as well as their derived food-products such as local beers are good sources of bioactive compounds comparable to other industrial alcoholic beverages.
Keywords
Sorghum bicolor,
dolo,
beer,
total phenols,
proanthocyanidins,
antioxidant capacity.
Publication Date
Fall October 9, 2012
Citation Information
Fatouma ABDOUL-LATIF, Romaric G. BAYILI, Louis C. OBAME and Mamoudou H. DICKO. "Comparison of phenolic compounds and antioxidant capacities of traditional sorghum beers with other alcoholic beverages"
African Journal of Biotechnology
Vol. 11 Iss. 81 (2012)
Available at: http://works.bepress.com/dicko/39/