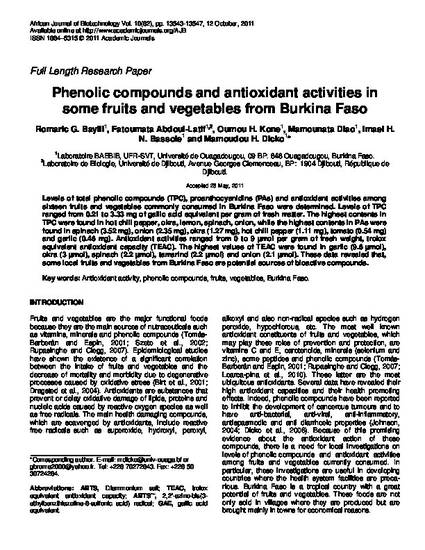 Article
Phenolic compounds and antioxidant activities in some fruits and vegetables from Burkina Faso
African Journal of Biotechnology (2011)
Abstract
Levels of total phenolic compounds (TPC), proanthocyanidins (PAs) and antioxidant activities among sixteen fruits and vegetables commonly consumed in Burkina Faso were determined. Levels of TPC ranged from 0.21 to 3.33 mg of gallic acid equivalent per gram of fresh matter. The highest contents in TPC were found in hot chili pepper, okra, lemon, spinach, onion, while the highest contents in PAs were found in spinach (3.52 mg), onion (2.35 mg), okra (1.27 mg), hot chili pepper (1.11 mg), tomato (0.54 mg) and garlic (0.46 mg). Antioxidant activities ranged from 0 to 9 μmol per gram of fresh weight, trolox equivalent antioxidant capacity (TEAC). The highest values of TEAC were found in garlic (9.6 μmol), okra (3 μmol), spinach (2.2 μmol), tamarind (2.2 μmol) and onion (2.1 μmol). These data revealed that, some local fruits and vegetables from Burkina Faso are potential sources of bioactive compounds.
Keywords
Antioxidant activity,
phenolic compounds,
fruits,
vegetables,
Burkina Faso
Publication Date
Spring October 12, 2011
Citation Information
Romaric G. BAYILI, Fatoumata Abdou-Latif, Oumou H. KONE, Mamouna DIAO, et al.. "Phenolic compounds and antioxidant activities in some fruits and vegetables from Burkina Faso"
African Journal of Biotechnology
Vol. 10 Iss. 62 (2011)
Available at: http://works.bepress.com/dicko/29/